It was followed in 1994 by a second album, "Jamaica by Night".
In 1996 he was awarded an Honorary Master of Arts degree by Birmingham University and in 1999 he was presented with a Millennium Fellowship for his work in Community Education.
He was also a key figure in the development of the Jazz programme at The Drum.
He's played regularly at prestigious international venues and festivals from St Lucia to, most recently, the South African Jazz Festival. He's played at the BAFTA awards, The Globe Theatre and WOMAD festivals across Europe and in 2006 he was reunited with the newly refurbished Zaka, Erroll Flynn's legendary yacht.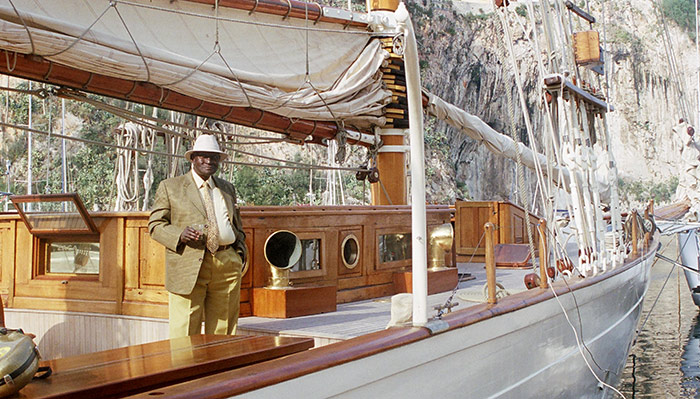 In the 2008 New Years Honours, to coincide with his 90th Birthday, Andy was presented with an MBE for services to Birmingham. That was soon followed by a fellowship of the Birmingham Conservatoire and a Birthday Concert at the newly refurbished Birmingham Town Hall..
And the work continued...
Andy continued to play and teach privately as well as maintaining his involvement with community and educational projects well into his 90s and indeed played at his 94th Birthday Party just weeks before his death. We all thought he would go on forever!
However the Andy legacy does go on. We at Bearwood Jazz had a little wobble in the months following his death, but we're back in business and looking forward to the future, whilst the other projects that Andy founded, the Ladywood Community School of Music and The Notebenders Big Band continue to thrive.
The Ladywood Community School of Music brings professional music tuition into the heart of Ladywood, the place that Andy made his home. Alvin Davis, a successful local Jazz musician who started in the Blue Pearls took over Andy's role as Saxophone tutor for a few years and has now been replaced by Avtar Kalsi who started learning the Sax under Andy at the Music School, whilst the Violin is now being taught by Rochelle Belnavis . Meanwhile the current heir to the Blue Pearls crown is the Notebenders Big Band which gives budding musicians from across the West Midlands (including Music School students) the chance to perform in regular live concerts.