ANDY GAYLE




with

The Blue Notes - 5th February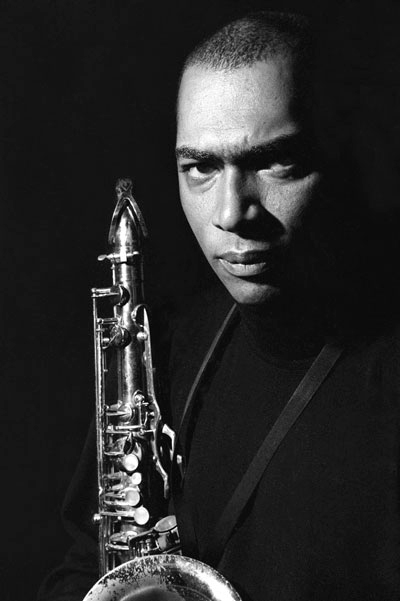 Andy Gayle is one of the best sax players in the region. He studied Jazz at Guildhall under the likes of Jean Toussaint, Pete Churchill, Simon Purcell and Scott Stroman. He has also worked with some of the best on the British and international Ska across Europe and toured the USA, Europe and Japan with the Specials, Special Beat, Skatalites and Jazz Jamaica.
 
He has even supported Ziggy Marley and the Melody Makers with the Classical Reggae pioneers Bubble Free.
Andy will be playing with The Blue Notes and is sure to delight you with some dazzling playing.
The line up is:
•    Andy Gayle - Sax
•    Andy Peate - Trumpet
•    Henry Newman - Keyboards
•    Paul Foad - Guitar
•    Trevor Lines - Bass
•    Wayne Scott - Drums
---
ROY FORBES
in The Stuart Barker Trio
- 12th February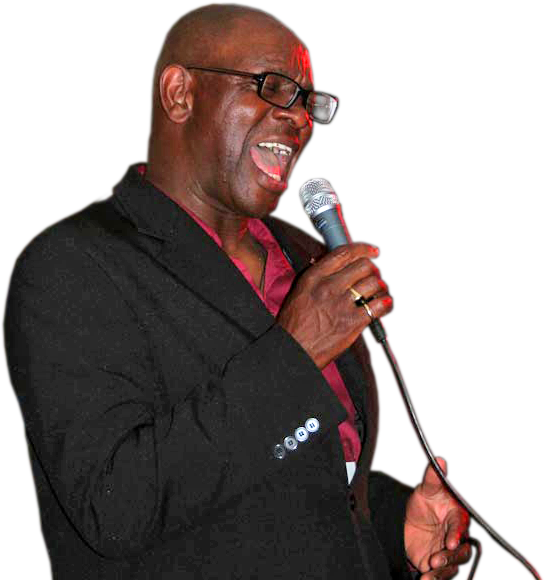 Roy Forbes is a vocalist of exceptional talent and is a regular performer on the Birmingham Jazz scene. Roy's original influence was Nat King Cole and this is the inspiration behind this line up and performance. Roy will be taking the audience through a selection of Nat's most famous and some more unusual numbers. Roy is best known for his work with Andy Hamilton and appeared on the album 'Jamaica by night'.
Roy is joined by Graham Dent on piano, a jazz musician based in the midlands. In Dec 2013 he celebrated 50 years as a gigging musician, and has enjoyed every moment (well almost). Currently he is working mainly with his contemporary modern jazz group named Jucamaya but is a wonderful accompanist and soloist in all jazz settings.
Stuart Barker is on Double bass, a recent graduate of Birmingham conservatoire his priorities lie within modern jazz which has seen him perform across the UK and Europe with groups such as Clark Tracey Quintet.

This sounds like a group with a very rich pedigree!
Line up for the gig:
•   Roy Forbes: Vocals

•   Graham Dent: Piano

•   Stuart Barker: Bass

---
THE BLUE NOTES
Youth Jam Night
- 19th February
With this week being Half-Term we thought it would be a great opportunity to showcase some of the great young talent there is around by holding a Youth Jam Night. The evening will be hosted by The Blue Notes with an array of Jam Night guests. The emphasis will be on youth and will include some of the Junior Blue Notes (pictured above with the main band in Lightwoods Park), but other guests will be invited to take the stage.
The line up so far is:
Dutch Lewis                        Saxes
Andy Peate                          Keyboards
Stuart Barker                       Bass
Paul Foad                            Guitar
Wayne Scott                        Drums
Vic Evans                            Vocals
Sophie Hamilton-Foad          Vocals
Louis Hamilton-Foad            Drums
Should be a great night. Bring your instrument if you've got one!

---
THE BLUE NOTES
- 26th February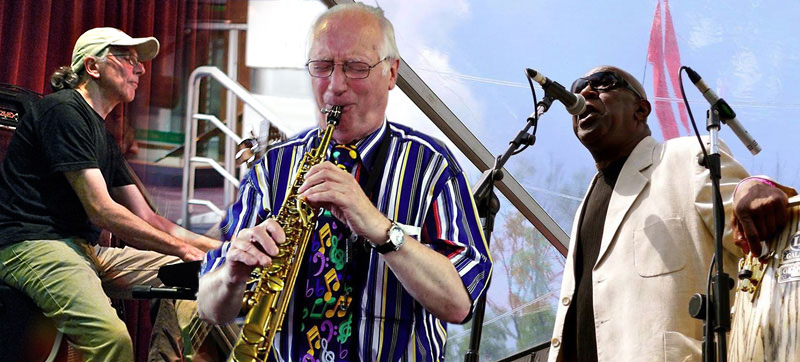 We will have a Blue Notes line with a twist for you this week with Massimo Nutalla, an Italian drummer who has played with Andy Hamilton back in the day, and turned up at the club a couple of weeks ago. He joined in in last Thursday's Jam Night. The band will be fronted by the magnificent Vic Evans on vocals and Dutch Lewis blowing some hot licks on just about anything that has a reed in it!
Feel free to bring your instruments, and help make this Thursday a Jam Night too!
The full line up is:
Dutch Lewis                        Saxes
Henry Newman                   Keyboards
Julius Fu                             Bass
Paul Foad                            Guitar
Massimo Natulla                  Drums
Vic Evans                            Vocals
---
TOM OLLENDORF TRIO (Wales) - 5th March

 
Tom Ollendorf is a seriously good guitarist leading a trio of high caliber up-and-coming musicians. He played a well supported gig here last October to a highly appreciative audience. If you want to see how Jazz guitar should be plated this is your chance!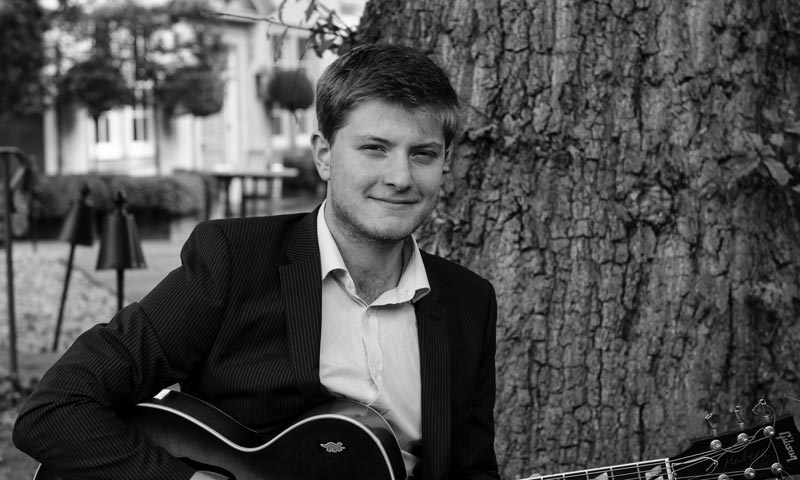 This Thursday we have a trio of young up-and-coming musicians from Wales who have come together to form the Tom Ollendorf Trio.
The Tom Ollendorff trio feature Pete Komor on Bass, award winning drummer Lloyd Haines (in a change from the last time) and, of course, Tom Ollendorff on guitar. They play a mix of original material and arrangements of contemporary and standard jazz material. All are all currently studying at the Royal Welsh College of Music in Cardiff, and are branching out into the great wide world of gigging. At the Silvershine Jazz Club we like to give opportunities to talent on the way up and Tom Ollenfdorf really does fit that bill.
In Tom's words " I'm bringing down a great band including a fab drummer called Lloyd Haines, so would be great to get a good crowd." We agree!
---
NOT STRICTLY JAZZ QUARTET - 12th March



Not Strictly Jazz will be performing Jazz Funk and Fusion from the masters of the genre such as Grover Washington Jnr, Jeff Lorber, Marcus Miller, Victor Bailey and others. The line up of top local musicians will feature Delano Mills on bass, Wayne Scott on drums Martin Trottman on keyboards and vocals and the excellent Alvin Davis on saxes.

It promises to be a feast for your eardrums. Great tunes and a smooth vibe.
Below is a sample of what you can expect.

---
 

PAUL's PALS

-

feat.

Andy Gayle

- 19th March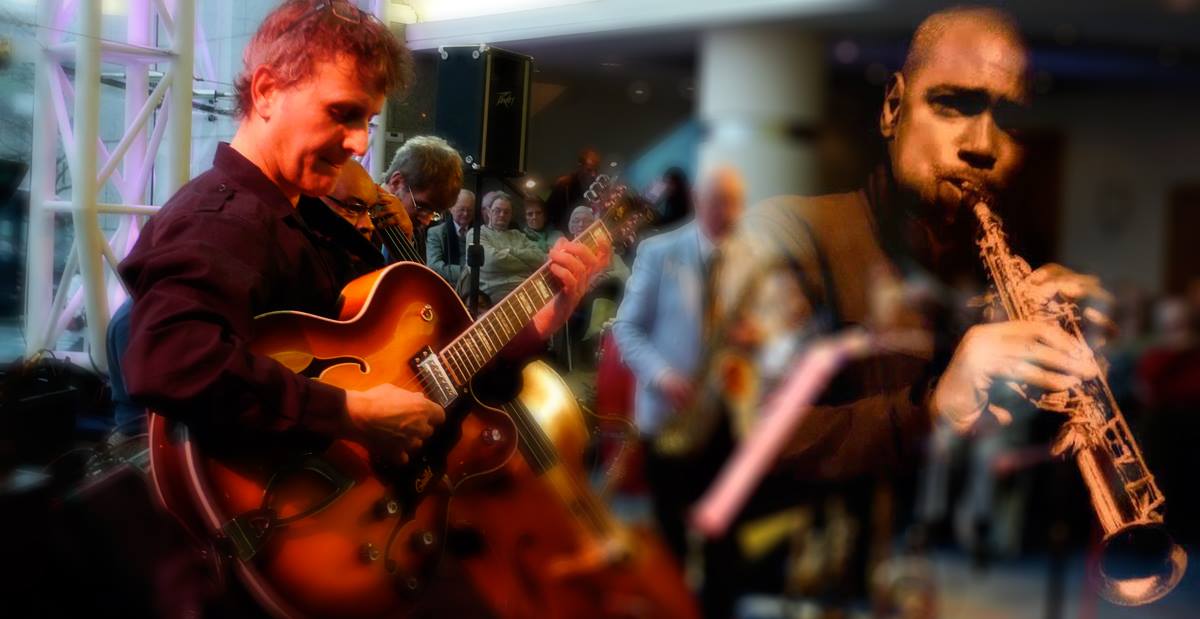 Paul's Pals is small collective put together by guitarist Paul Foad comprising of Blue Notes and other musicians he's worked with. This first outing for the band will feature the amazing Andy Gayle on saxophone and the excellent Tim Amann on keys.
Full line up:
Paul Foad - Guitar
 
Andy Gayle - Saxophone
 
Tim Amann - Piano
 
Stuart Barker - Baker
 
Massimo Natulla - Drums
---
THE BLUE NOTES




   

celebrate the Music of Andy Hamilton - 26th March 


This Thursday we will be remembering the great Andy Hamilton MBE

(photo - Garry Corbett)

and for this very special gig at the Silvershine Jazz Club, The Blue Notes will perform and and celebrate the music he wrote and played.
The tunes will include as many of the Caribbean grooves (such as Silvershine, Jamaica By Night, Acafess and Paris) as possible, along with many of the standards Andy loved to play.
The Blue Notes line-up will include musicians who played with Andy at key points in his career, such as Ray 'Pablo' Brown who played double bass on the legendary Silvershine LP, along with Dutch Lewis, Paul Foad, Andy Peate and the fabulous Vic Evans on vocals.
This line-up will be embellished with Henry Newman on keys, former Notebendetrs Musical Director, Jonathan Silk, on drums as well as a couple of Andy's grandchildren, Louis (drums) and Courtney Hamilton-Foad (vox).

---