Steve Ajao Quartet
- 3rd April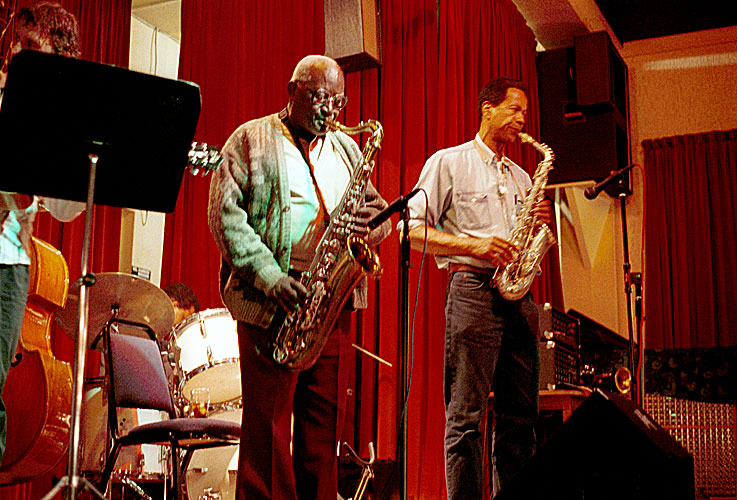 Steve Ajao is Birmingham's best loved Bebop artist, Steve (seen above playin with Andy Hamilton) is a renowned local Jazz and Blues musician. He came to prominence in the eighties when he played with the great Red Rodney, Charlie Parker's trumpet player in London and Brighton. A beautifully inventive Alto player and a joy to hear.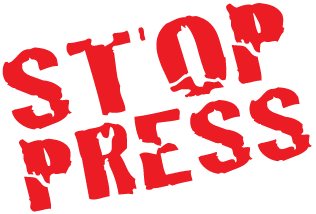 By way of late breaking news! Here's the line up for the Steve Ajao quartet"
Steve Ajao (Sax)
 

Miles Levine (Drums)
 
Simon "Smudge" Smith (Bass)
 

Tim Amann (Keys)


Should be very good indeed!
To whet your appetite we've embedded this Youtube footage of Steve and band playing Anthropology (which has donr OK on the hit counter). For anyone who hasn't seen Steve play he's a pretty cool guy and a must for your diary.
---
VIC EVANS 80th Birthday Party
Vic Evans + The Blue Notes + a Galaxy of Guests
- 10th April

Yes, believe it or not, Vic Evans, the Blue Notes fabulous singer will be 80 this month and we're holding a party for him on 10th April (this Thursday). He will be accompanied by members of The Blue Notes from over the years, plus a Galaxy of guest musicians that he has worked with during a long career as one of the best Jazz vocalists ever to live and work in Birmingham.
More news of the gig will arrive as I get it, so keep watching this space, and be sure to put Thursday night at the Silvershine Jazz Club in your diary. It will be a very special night indeed!

---
 
TOM OLLENDORF TRIO (Wales)
- 17th April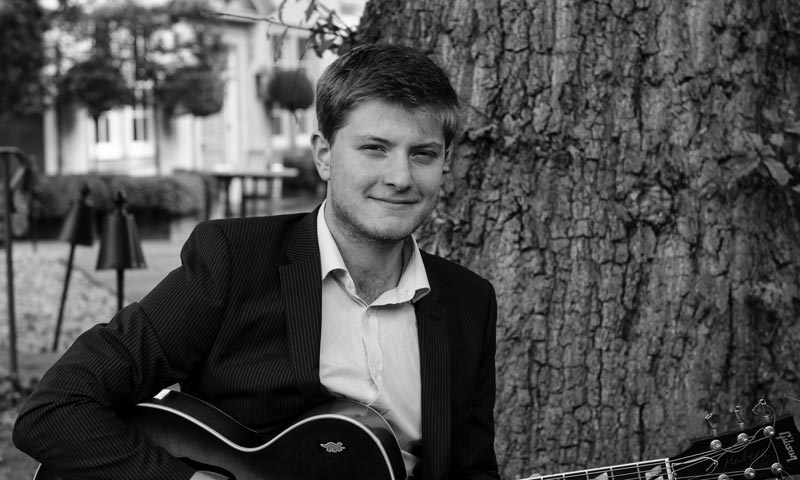 This Thursday we have a trio of young up-and-coming musicians from Wales who have come together to form the Tom Ollendorf Trio.
The Tom Ollendorff trio feature Pete Komor on Bass, Rod Oughton on drums and, of course, Tom Ollendorff on guitar. They play a mix of original material and arrangements of contemporary and standard jazz material. All are all currently studying at the Royal Welsh College of Music in Cardiff, and are branching out into the great wide world of gigging. At the Silvershine Jazz Club we like to give opportunities to talent on the way up, and this could well be your opportunity to say I saw them here first!

---
JUNIOR BLUE NOTES EASTER BREAK
- 24th April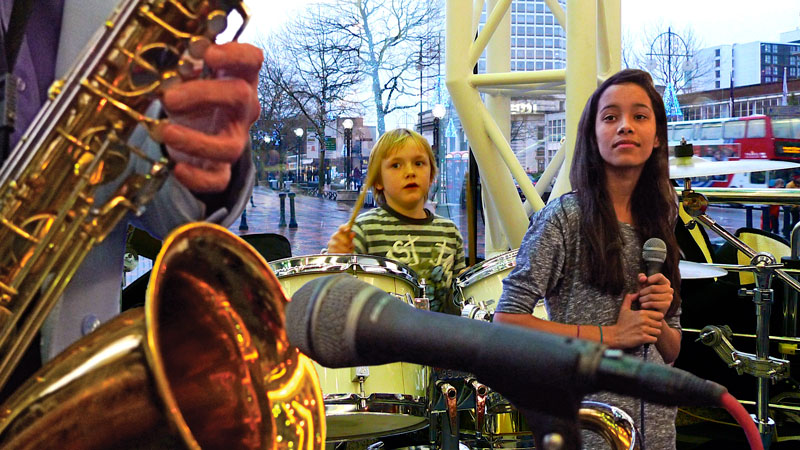 Originally billed as Tim Amann and Sons this gig has now expanded to include other youngsters (besides Tim's two lads) who have jammed with the Blue Notes in the past or are related to band members.
Youngsters so far committed to this gig include Sophie Hamilton-Foad on Vocals, Aiden Amann on Drums and Jonny Browning on Bass, along with first timers Gabriel Amann on Trumpet and Louis Hamilton-Foad on drums. The line up will be bolstered by experienced pros Tim Amann on Keys, Paul Foad on Guitar and Andy Gayle on Sax.
We will be expecting more names to be added to the list between now and Thursday evening and we'll try to put them up on the Bearwood Jazz Facebook as we get them, but be prepared for some surprises on the night. You will be getting a little snippet of the future sound of Jazz.
---
LUCAS D & THE GROOVE GHETTO feat. LUKE SHINGLER (sax) -
8th May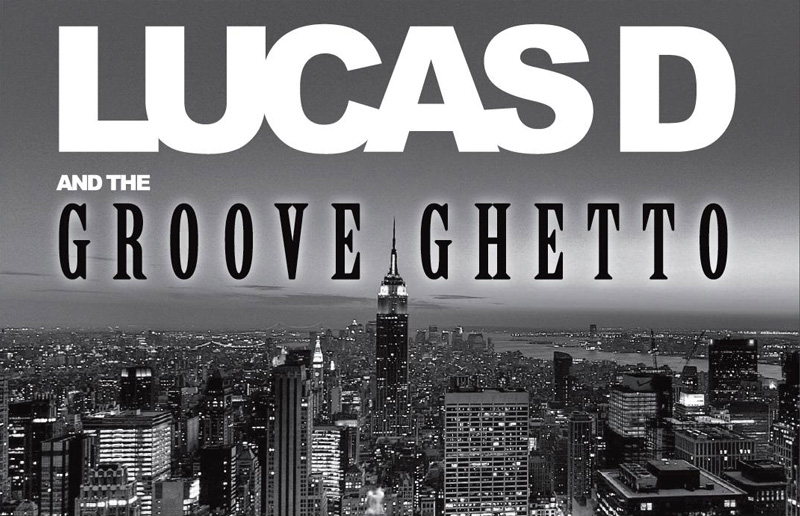 Back in the days of "Jazz At The Bear" it was Luke Shingler who worked with Andy Hamilton to put the Bearwood Jazz programme together. Luke, a highly talened tenor sax player in his own right, used to sit in with Andy Hamilton & The Blue Notes on a regular basis. Since we've been at the Corks we haven't seen as much of him as we'd have liked, but here he plays in a Fusion outfit called "Lucas D & The Groove Ghetto", a band which is creating a bit of a stir round and abouts.

They play A collection of Rare Groove, Funky Blues, Acid Jazz and Soul tracks with some familiar numbers that set the style for this new collective. The line up includes local Musicians who have played with Steve Gibbons, Ruby Turner, Steel Pulse and Robert Plant to name but a few.

Lucas D & The Groove Ghetto are:

Paul Wakelin –Trumpet


Luke Shingler – Saxophone


Bob Wilson – Guitar


Frank Walker – Bass


Jon Bates - Keys


Toby Wilson – Drums
---
ALEX ASTBURY QUARTET -
15th May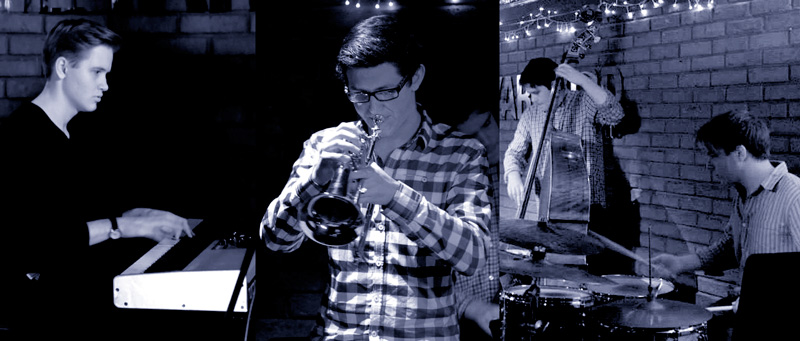 The Alex Astbury Quartet are a group of Conservatoire Jazz students, tutored and mentored by some of the UK's top jazz musicians such as Henry Lowther, Mike Williams, Richard Illes, former member of Art Blakey's Jazz Messengers, Jean Toussaint who has himself played at our club before now.
 
They will be playing a selection of standards and tunes from the likes of Dizzy Gillespie, Thelonious Monk, Lee Morgan and more.
---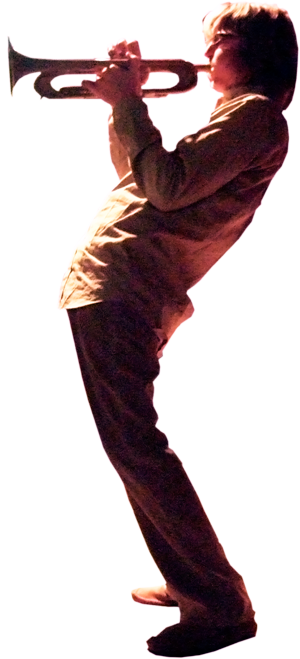 BRYAN CORBETT QUARTET

- 22nd May -
It's brilliant to have Bran Corbett back at the Corks for the first time since we re-branded as the Silvershine Jazz Club.
 
Bryan is one of the UKs finest exponents of the "Cool School" of Trumpet playing, and he is now a well established figure at national and international level, having played at venues ranging from the Sydney opera House to the London and Brecon Jazz Festivals.
Bryan's playing oozes class. If you've not seen him come and find out, and if you have you'll no doubt want more.
 
We've just heard that Bryan is bringing a Quartet. The line up is: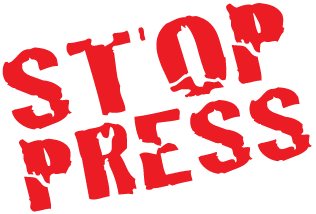 Bryan Corbett - Tpt/Flg
 
Al Gurr - Keys


Chris Mapp - Bass


Carl Hemmingsley - Drums
---
 
THE BLUE NOTES Jam Night - 29th May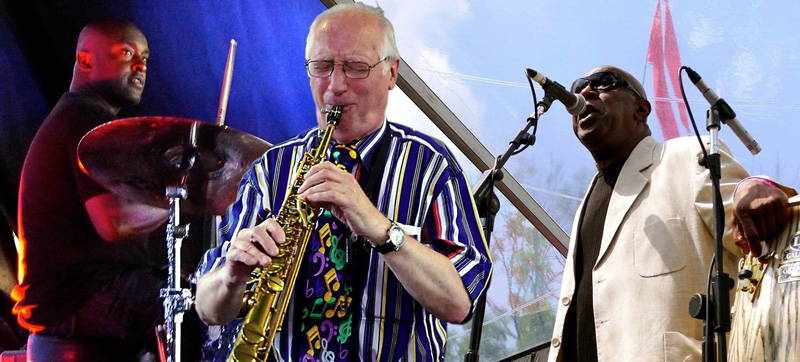 Got a great Blue Notes line up for you this week. Led by Vic Evans (vocals) and Dutch Lewis (saxes) it features a very welcome return visit for Trevor Lines on double bass and Wayne Scott on drums. Sophie Hamilton-Foad will also be stepping up to the mic to showcase her wonderful voice.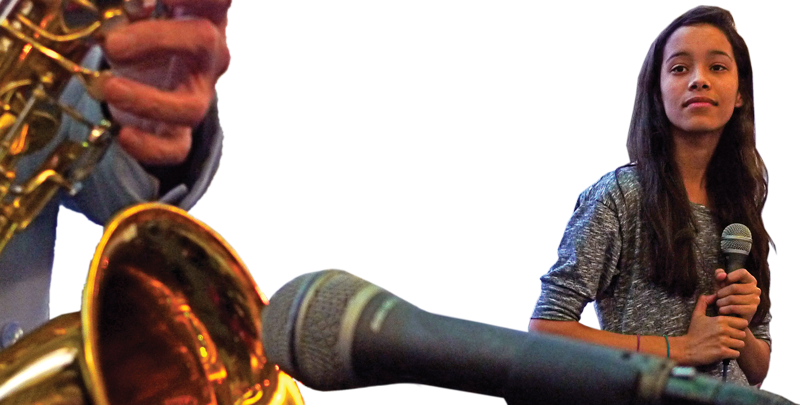 Remember, it's a Jam Night so bring your instrument if you have one!
Full line up:
Vic Evans - Vocals
 
Dutch Lewis - Sax
 
Andy Peate - Keyboards
 
Paul Foad - Guitar
 
Trevor Lines - Bass
 
Wayne Scott - Drums
 
Sophie Hamilton-Foad - Vocals
---