Gilad Hekselman Solo
- 3rd April - Doors 8pm 

• LONDON • CARDIFF • BEARWOOD • PHILADELPHIA • NEW YORK •

 
We had the opportunity to book this amazing New York based guitarist at very short notice as a late addition to his tour of the US and Europe.

It's on the Friday, but this really is a must see gig.
This is a rare opportunity to hear one of the best Jazz guitarists in the world in such an intimate setting and for £5 !

'Gilad Hekselman has been developing a reputation as one of the most promising guitarists in New York since his arrival in 2004. After only a few years this native Israeli has shared the stage with some of the greatest artists in the New York City jazz scene including Chris Potter, Mark Turner, John Scofield, Anat Cohen, Ari Hoenig, Esperanza Spalding, Sam Yahel, Jeff Ballard, Gretchen Parlato, Avishai Cohen, Jeff 'Tain' Watts, Tigran Hamasyan, Aaron Parks and Greg Hutchinson'
We'd like to thank Tom Ollendorf for the blurb and for helping set this up
There will be a trio on first as a support act:
Dave Ferris Keys
Jim Bashford Drums
Stuart Barker Bass
...and there will be a bar extension till 11.30pm. All in all a big night's Jazz
---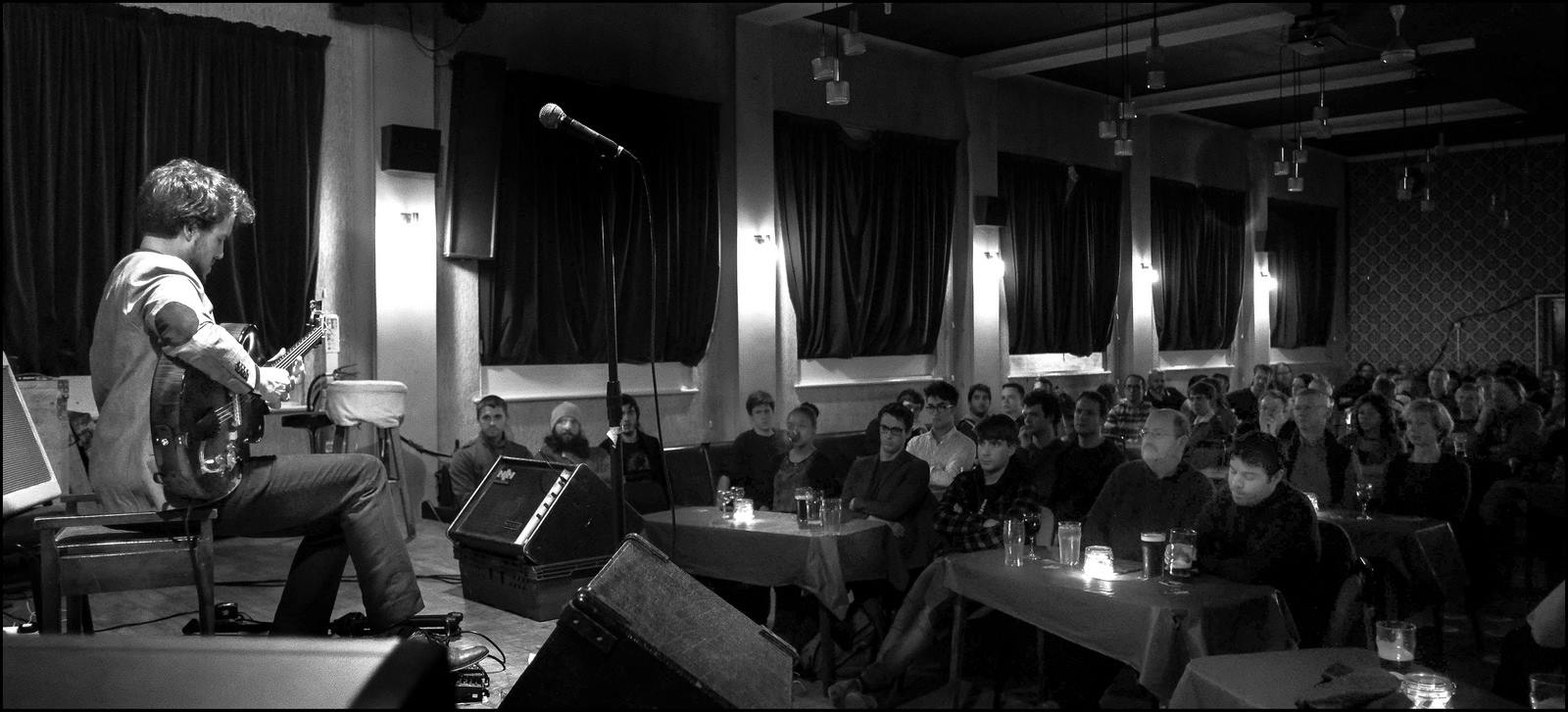 Photographer Garry Corbett took this wondereful photo of NY based Jazz guitarist Gilad Hekselman playing to a packed house at the Silvershine Jazz Club. He also wrote the review for The Jazz Breakfast below.
Thanks Garry.
Garry's photos on Flickr
Jazz Breakfast review
---
 Blue Notes Jam Night
- 2nd April
 


OK, so we've got a top act on Friday the 3rd, but we're still going ahead with a Jam Night on the Thursday.
Come to both and have yourselves a fabulous Jazzy Easter!

---
 

 THE BLUE NOTES
- 9th April
 


Yes, it's The Blue Notes this coming Thursday. It's not officially been announced as a Jam Night, but anyone bringing their instruments will, I'm sure, be invited to take the stage.
More news will go up on our Facebook as it comes in.

---
STEVE KING BIG BAND




                        with

Lynn Dawes

(US Vocals) - 20th March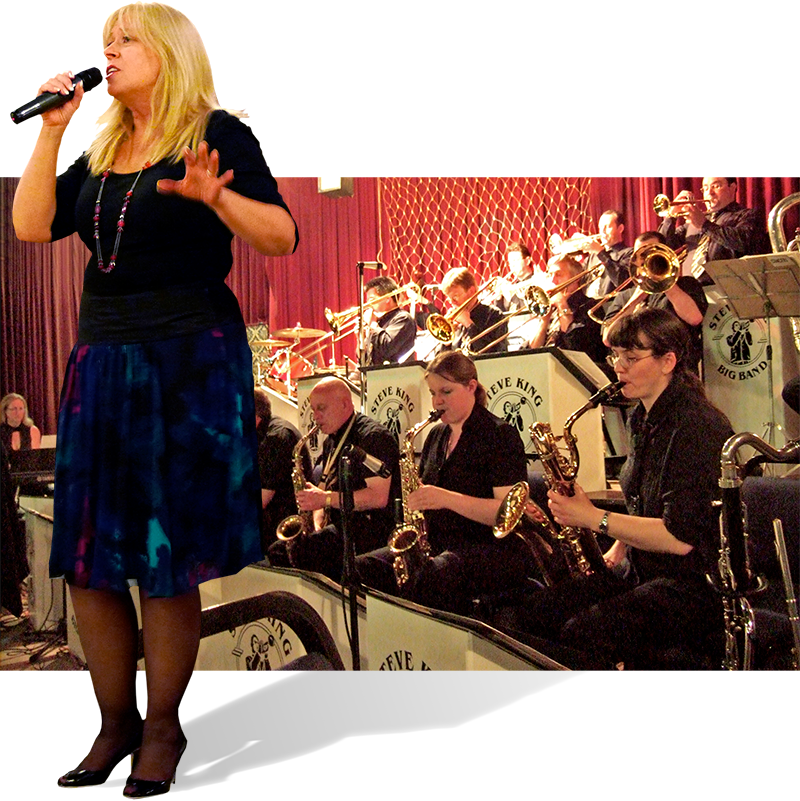 All big band exponents know the Steve King Big Band as they're quite simply one of the best around. Brimming with talented pro and semi-pro players, the band features Lynn Dawes, a classy US vocalist with a big voice.

Experience Big Band music as it should be played. 
Here's a link to a video from a previous SKBB gig at the Corks:
---
THE BLUE NOTES
- 23rd April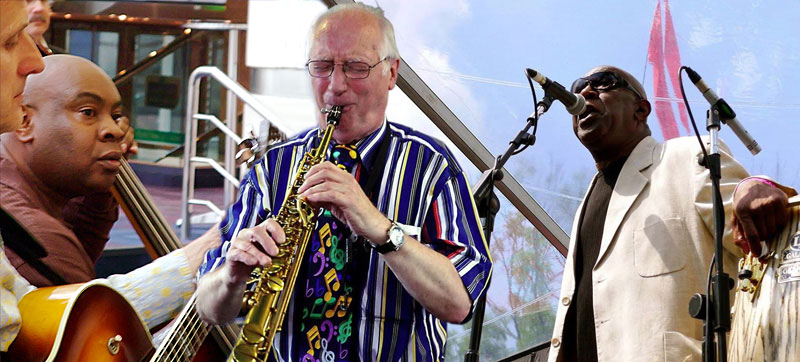 The Blue Notes line up for Thursday:


Dutch Lewis Horns


Vic Evans Vocals


Ray Brown Bass


Paul Foad Guitar


Henry Newman Keyboards


Keith York Drums
p.s.  I was browsing through the new vinyl in Swordfish Records on Record Store Day (Saturday just gone) and I came across the first LP by Broadcast, which features our drummer, Keith York.


Peter Lewis (saxophone) will be playing tonight. We can remember when he was presented with a Saxophone by his Church on one of Andy Hamilton's Jam Nights. He has now developed into a talented player.

---


OUT OF THE BLUE JAZZ ORCHESTRA
with
Tracy Lovejoy
(vocals) - 30th April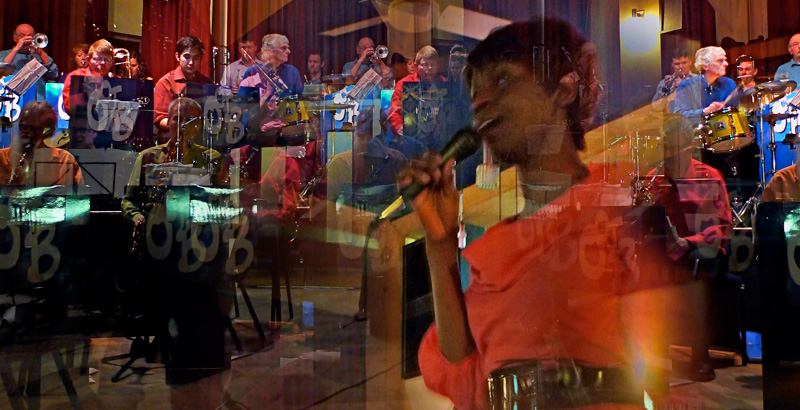 Formerly known as the Blue Max Big Band, Out of the Blue was formed in the early nineteen nineties by members of a jazz workshop run by Andy Hamilton. With a repertoire drawn from the classic swing arrangements of the Basie and Ellington orchestras together with more modern numbers by the likes of the great Sammy Nestico, the band has built a high reputation in Birmingham and the Midlands.
They are now under the musical direction of Jo James and feature singer Tracy Lovejoy who brings a wonderful "Northern Soul" feel to their vocal numbers.

---
 

FRIDA
- 7 Piece Ensemble led by
Stella Roberts
- 7 th May -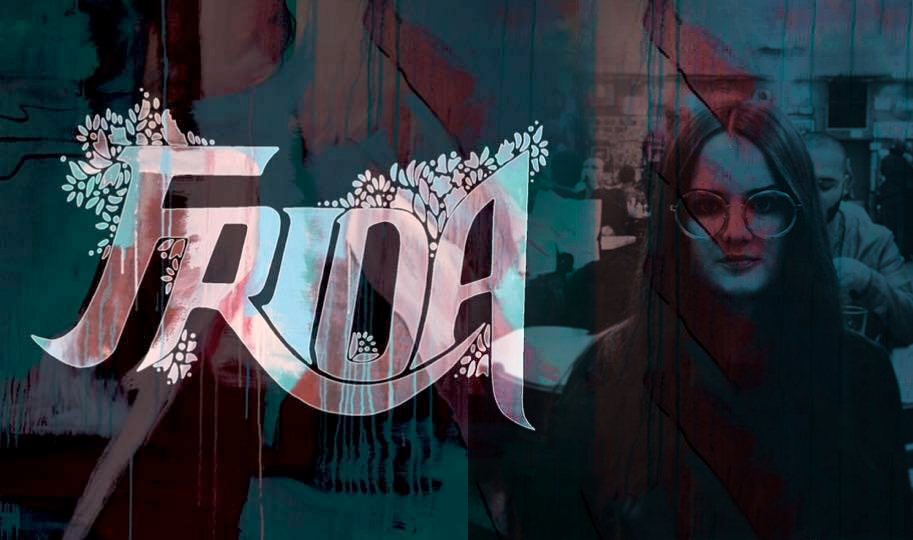 FRIDA. is an exciting new 7-piece ensemble lead by pianist Stella Roberts. The band combines the sounds of a traditional string quartet with a jazz piano trio and focuses on integrating the two genres of instruments through writing and performance.
Stella has been composing for the band over the last year, drawing influences from an eclectic range of styles and musicians including Bill Frisell and the 858 Quartet, to Bjork's seminal album 'Homogenic'.
Currently recording the music, FRIDA. will be releasing their debut album this Summer and looks forward to performances this summer, including the Cheltenham Jazz Fringe Festival.
Stella Roberts - Piano
Stuart Barker - Bass
Euan Palmer - Drums
 
Helena Britten - Violin I
Ning-ning Li - Violin II
Lizze Chan-Foxley - Viola
Katie Davies - Cello

 
Also featuring Sean Gibbs - Trumpet and Flugel Horn
LISTEN:         https://soundcloud.com/stellaroberts
WEBSITE:      http://stellafbroberts.wix.com/stellarobertsmusic
---
THE BLUE NOTES
- 14th May -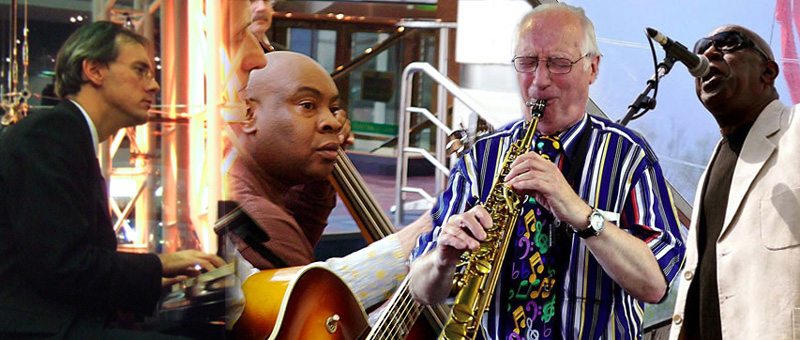 Yes, it's The Blue Notes this coming Thursday. It's not officially been announced as a Jam Night, but anyone bringing their instruments will, I'm sure, be invited to take the stage.  

The Blue Notes line up so far is:
Vic Evans - vocals
 
Dutch Lewis - saxes
 
Tim Amann - piano
 
Ray "Pablo" Brown - double bass
 
Paul Foad - guitar
 
---
THE BASEMENT BAND
- 21st May -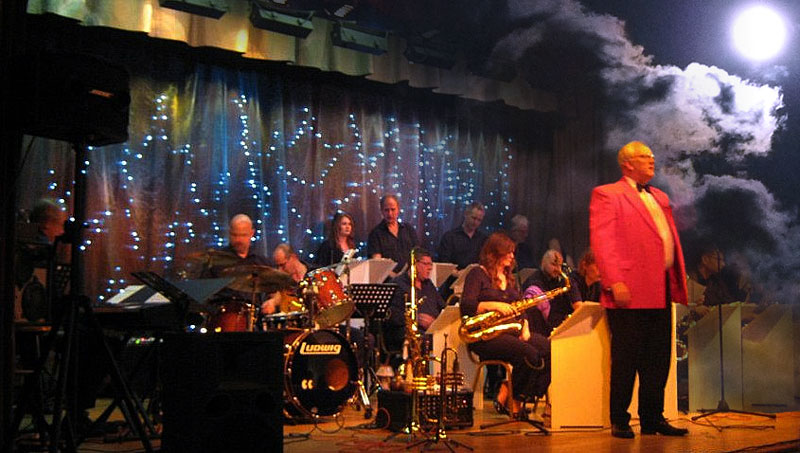 The Basement Band was originally formed by Andy Hamilton. It gets its name from the fact it originally rehearsed in a basement studio at the Cannon Hill Arts centre. The band is a co-operative and engages an MD to rehearse and front the band on gigs. For the last twenty five years Steve King has been MD. The current line-up only has one member from when Steve took over, although guitarist Delano Mills (of NotStrictly Jazz), who was a member at that time, has recently re-joined.
 
The band features the classic line-up of five saxes, eight brass and rhythm and its library stretches from the big band sound of the thirties right up to the current big band repertoire.

---
Great night, great music and great dancers taking the floor to show how big band swing should be enjoyed. The Basement Band at the Silvershine Jazz Club.
---
BON ACCORD
- 28th May -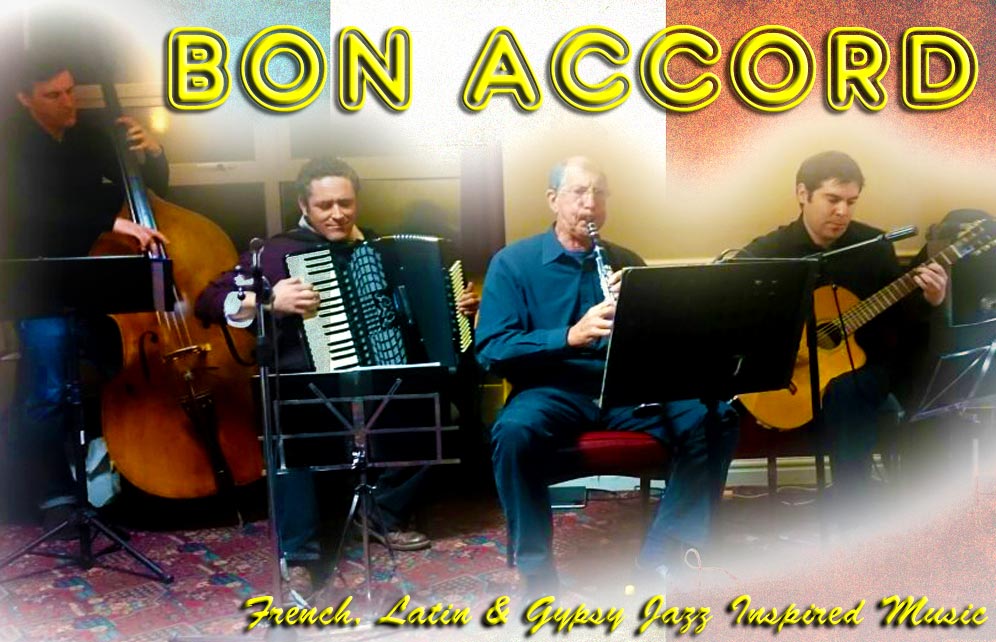 Bon Accord is a new Gypsy Jazz band with a difference, inspired by the music of Django Reinhardt and Stephane Grappelli's Quintet of the Hot Club of France. Most Gypsy Jazz bands today consist entirely of stringed instruments. Django, however, also recorded with accordionist Gus Viseur and clarinettist Hubert Rostaing. Bon Accord follows this lead with a line-up of accordion, clarinet, guitar and double bass, playing both well-known and more contemporary Gypsy Jazz numbers plus French and Latin pieces.

The band is:
Harry Christian – Clarinet
Harry has played clarinet and saxophones in various mainstream and traditional jazz bands for many years. A long term admirer of Django Reinhardt's music, he has become increasing interested in the gypsy jazz genre over the last four years and more aware of the many recordings Django made with clarinet players.
 
Richard Adey – Accordion
Richard is a professional accordionist/arranger: he performed on stage for two years with the Royal Shakespeare Company (Stratford-Upon-Avon and on tour), at the London Barbican Centre, the Kennedy Center Washington DC, the Brooklyn Academy of Music New York; at the Edinburgh Fringe in an acclaimed production of Pam Gems, Piaf (Troika Productions); He was pleased in March 2013 to play at "Piaf -The Concert" joining The Matthew Jones Orchestra at venues including: Birmingham Town Hall; Queen Elizabeth Hall, Southbank Centre, London.
 
Mike Bethel – Guitar
Mike is a guitarist and teacher who, having worked in a solo classical idiom, has found himself performing in various different groups and genres. He has also recorded three well-received solo albums.
 
Simon Smith – Bass
Simon is a bass player with much experience in a wide variety of music genres. He has spent time working in the USA as a session musician for many artists including the Tony Award winner, Idina Menzel. He currently plays with a number of folk and jazz groups at venues and festivals throughout the UK and Europe, and has played at the Silvershine Club many times.
 
A medley of some of the tunes we play can be heard at www.bonaccordmusic.com
---