Richard Hughes Quartet - 8th August
feat Chris (Beebe) Aldridge (sax)
 
 
It's great having a musician like Richard Hughes on our doorstep as you can rely on him to bring something a bit different each time he plays at the Silvershine Jazz Club. This time he brings a more conventional Jazz line up than the Celtic fusion of last time, but it comes with one of the best sax players in the region.
Chris (Beebe) Aldridge's blistering sax style has earned him CDs issued on general release. When he played at Corks in his own right 2006 he had the likes of Bryan Corbett and Levi French in his band. This time he joins up with Miles Levin (drums), Simon (Smudge) Smith (bass) and, of course, Richard Hughes (piano) to form what is a red hot Jazz line up
If you're in town for this one do your best to make it!
---

Andy Peate leads Classic Blue Note line-up at The Silvershine Jazz Club this Thursday
Tonight (Thursday 15th August) Andy Peate will be leading the Blue Notes. Andy Peate is a well known face on the West Midlands music scene who, along with Dutch Lewis, stood shoulder to shoulder with Andy Hamilton on the front line since they were young and up and coming.
Brian Wright will be rejoining the Blue Notes for one night to complete what is a classic Blue Notes line up. Brian, along with Paul Foad on Guitar, was a key element of the classic 1990s line up.
Tim Amann joined the band later, after the great Sam Brown had left the band, but is just as key, while Vic of course both post-dates and pre-dates that '90s era.
Wayne Scott understudied for Johnny Hoo back then and has done ever since when available. This is as close to a classic Blue Note line-up as you can get and it comes with a the classic blend of jazz standards and calypso grooves.
Come along and enjoy some wonderful summer music.
Andy Peate - trumpet, flugelhorn
Vic Evans - vocals
Dutch Lewis - saxes etc...
Tim Amann - piano
Paul Foad - guitar
Brian Wright - double bass
Wayne Scott - drums


---
HENRY NEWMAN BAND

feat

Janice Williamson (ex-Black Voices)

- 22nd August


Henry Newman always brings a cracking little band to Bearwood Corks. You can never quite be sure who else will be playing, but it always features Janice Williamson, a top notch vocalist with a big voice . Janice was in the original line up of the acapella Gospel group Black Voices - I've even got a vinyl LP with her on, produced by Basil Gabbidon no less.
The line up above also shows Alvin Davis and Dutch Lewis on sax whilst other musicians who've featured in the past include Andy Gayle (sax), Fred Wisdom (gtr), Wal Warmington (drums), Julian Powell (drums) and Ray (Pablo) Brown (dbl bass). Whatever the line up is though, you can be sure the music will be great.
---
Steve Ajao Quartet
- 29th August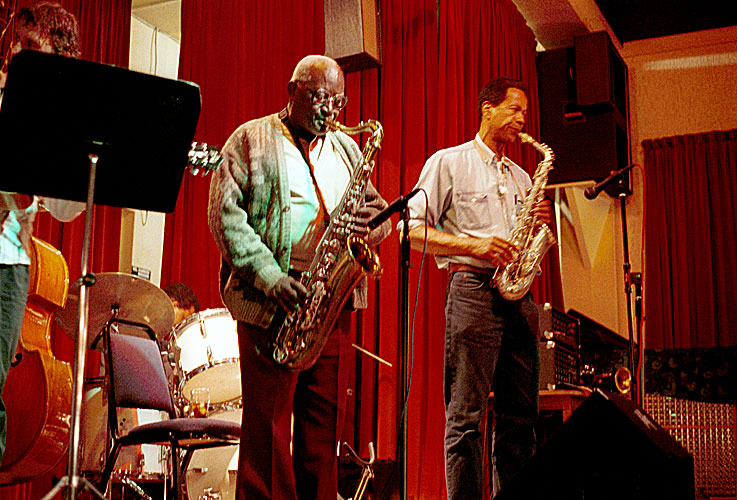 Steve Ajao is Birmingham's best loved Bebop artist, Steve (seen above playin with Andy Hamilton) is a renowned local Jazz and Blues musician. He came to prominence in the eighties when he played with the great Red Rodney, Charlie Parker's trumpet player in London and Brighton. A beautifully inventive Alto player and a joy to hear
To whet your appetite we've embedded some Youtube footage of Steve and band playing Anthropology. For anyone who hasn't seen Steve play he's a pretty cool guy and a must for your diary.
---
ANDY GAYLE QUINTET
- 12th Sept


Andy Gayle is one of the best sax players in the region. He studied Jazz at Guildhall under the likes of Jean Toussaint, Pete Churchill, Simon Purcell and Scott Stroman. He has also worked with some of the best on the British and international Ska across Europe and toured the USA, Europe and Japan with the Specials, Special Beat, Skatalites and Jazz Jamaica.
He has even supported Ziggy Marley and the Melody Makers with the Classical Reggae pioneers Bubble Free. Here he plays with his own quintet, having impressed at the recent Henry Newman gig.
More info on Andy at www.andygaylejazz.co.uk
---

BLUE NOTES JAM NIGHT

- 19th Sept -
For late checkers of the website, I'm just getting the full gen on this one. 18 year old Tim Wheeler will be playing drums for the Blue Notes tonight. Tim Wheeler is the drummer in the King Edward's School Big Band. We have more guests lined up for you including some from King Edward's in what promises to be a lively evening's Jazz.
Bring your instruments along too if you want to join in with the jam session!
---
VIC EVANS QUARTET
- 26th Sept

Vic Evans, long time lead vocalist with the Blue Notes, will be bringing his own band. Vic is a Jazz singer in the truest sense and one of the best around.
You can expect an evening of Jazz standards featuring the melifluous tones of Mr Evans occasionally intersprsed with a little Caribbean flavour, and if you're very lucky he'll sing "Hold 'em Joe". Nice!
---