John Smith & Malcolm Gibbons
• Guitar Quartet • 5th October •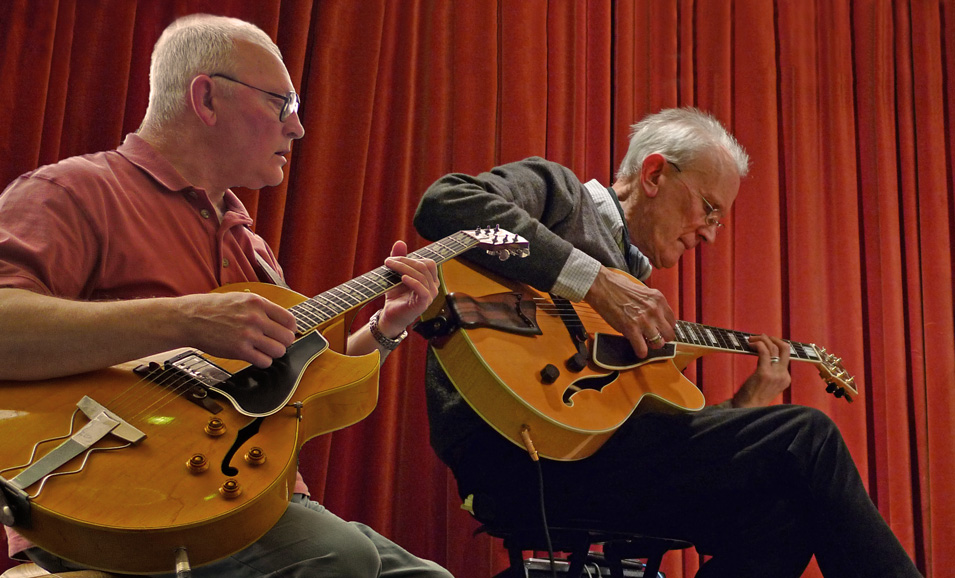 John Smith and Malcolm Gibbons are two of the very best Jazz guitarists in the West Midlands and have played with some of the best the region has to offer including our founder Andy Hamilton MBE and Silvershine favourites the Steve King Big Band. Here they combine to bring you their own special magic.
We've just received the full line up and they've got Mike Green on double bass and Keith York
(ex-Dr Phibes, Broadcast & Bently Rhythm Ace)

on drums. All in all a truly wonderful line up!


This gig is a must for all lovers and players of guitar based music.

---
Roy Forbes with The Blue Notes
• 5th October •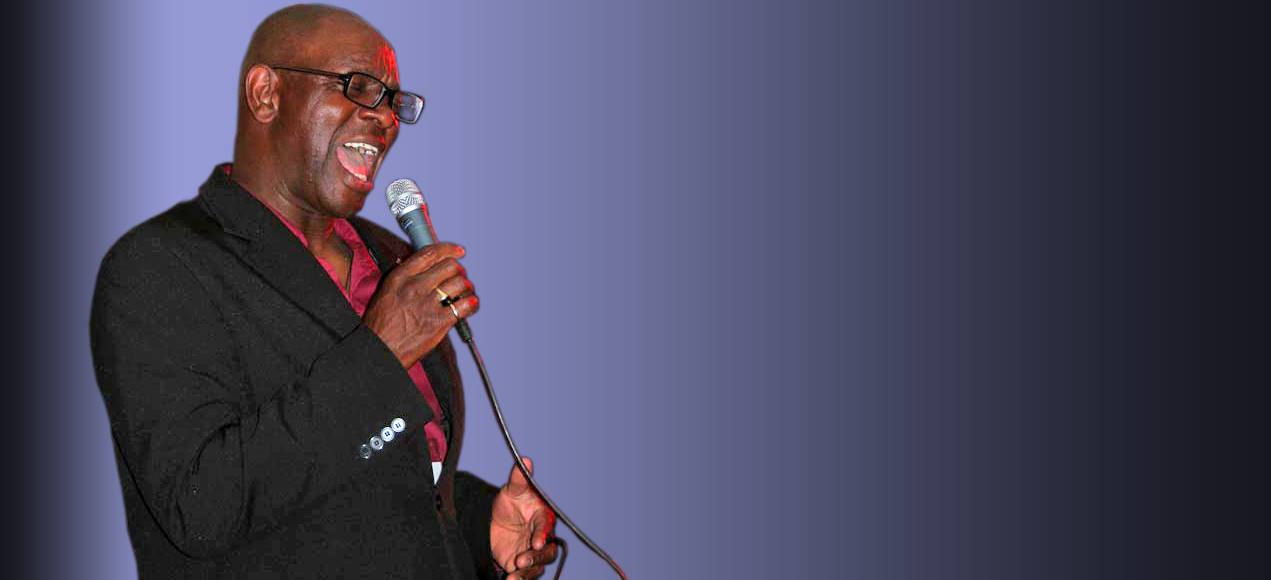 Roy Forbes was Andy Hamilton's lead vocalist back in the Jazz At The Bear days and sang on Andy's Jamaica By Night album.

Infuenced by the great Nat King Cole, he is a vocalist of exceptional talent and is a regular performer on the Birmingham Jazz scene. When Roy left the Blue Notes it was to pursue a solo career, and, a few albums later (one of which featured the late great US saxophonist Spike Robinson) he makes one of his occasional retuns to the Silvershine Club.


For this gig Roy will be reunited with Andy's & Roy's old band, The Blue Notes.

The full line up is:
Roy Forbes Vocals

Tim Aman Piano

Aiden Aman Drums

Paul Foad Guitar

Nick Wiltshire Bass

Andy Gayle Sax
---
Blue Notes Jam Night
• 19th October •

It's a Blue Notes Jam Night this Thursday. Bring your instrument if you'd like to join in. If not, just come along and listen to some sweet, sweet music.


There's a guest appearance from fabulous trumpet player Chris Walmsley who turned up out of the blue on the last the last jam session and blew us all away!


Line up is:
Vic Evans - Vocals

Nick Wiltshire - Keys

Ray Brown - Bass

Louis Hamilton - Foad Drums

Peter Lewis - Sax

Paul Foad - Guitar
---
Tom Ollendorff Quartet
Barford/Trounson/Ollendorff/Michel
• 26th October •

Brilliant guitarist Tom Ollendorff brings his London based band to Bearwood and brings a horn player with him for the first time. Expect some wonderful music from some award winning players.


The line up is:
Tom Ollendorff: Guitar
Tom Ollendorf is a seriously good guitarist. A graduate of the Royal Welsh College of Music in Cardiff he was awarded the Yamaha Jazz Scholarship for 2015. Now based in London he is working with some of the best young Jazzers around.


Marc Michel: Drums
Award winning drummer who came through the French Conservatories and has gone on to record and tour the world with the EYM Trio.


Tom Barford: Sax
Royal Academician and Winner of the Kenny Wheeler Prize 2017
'A future star of the UK jazz scene' - Jazzwise Magazine -


Mark Trounson: Bass
Another graduate of the Royal Welsh College of Music, Mark is an emerging presence on the UK jazz scene. He also sings alto and tenor with Leicester Cathedral Choir on a regular basis.

If you love Jazz this is a must see gig!
---
Farewell Captain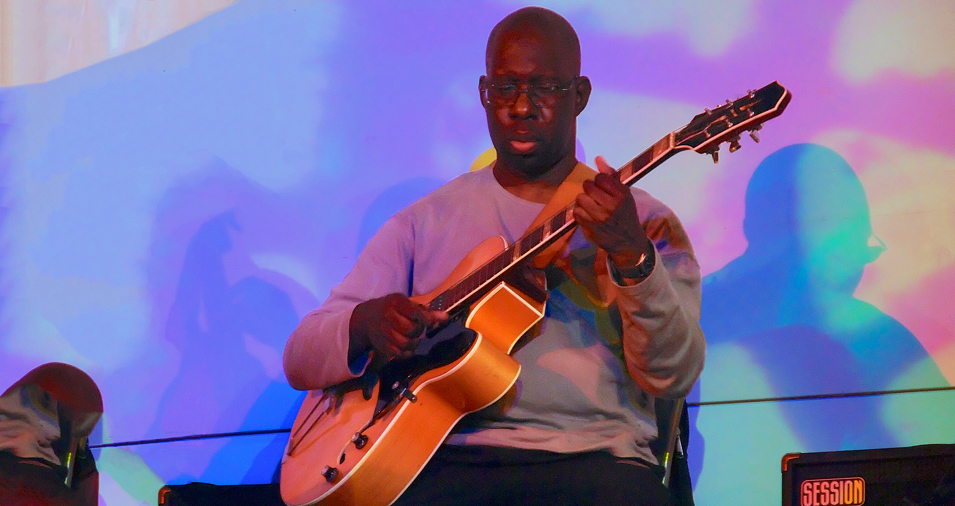 Bearwood Jazz are saddened to announce the passing of Derek Wilson, better known to those at the club as Captain. Captain was a massive support to Andy Hamilton in his later years, running the PA at the Cork's Club as well as at other gigs including The Drum, the Symphony Hall and the Trumpet in Bilston. He would make sure there was a Blue Notes band in place for Andy's gigs, ferry Andy about and so much more. He also played guitar and can be seen here jamming with The Blue Notes at one of Andy's Sunday lunchtime gigs at The Drum.

After Andy's death Captain moved into caring work, both privately and in the voluntary sector. He will be greatly missed.

Captain died on 3rd October. The Funeral is on Thursday 26th October and the itierary is:
The Service is at 12pm at City Road Baptist Church, Edgbaston B16 0NE.
The Committal is at 2.30pm at Hodge Hill Cemetary & Crematorium, Weoly Park Rd, Selly Oak B29 5AA.
The Reception will follow at the Cap Centre, Windmill Lane,Smethwick B66 3LX
UPDATE:
Following the funeral we received the following comment on Facebook from Captain's sister.
"Thank you for your kind words and a huge thank you to Ray and all the musicians, apologies I can't remember all your names, that made yesterday so special. Thank you so muchXx"

Thankyou Treica.
---
Bon Accord (Gypsy Jazz) - 2nd November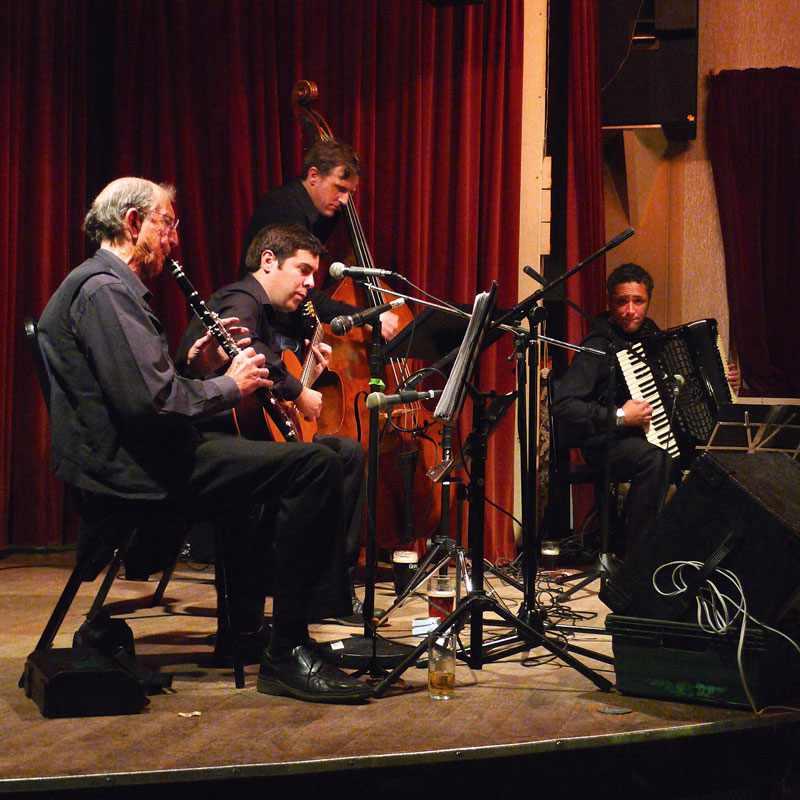 Bon Accord is a truly wonderful Gypsy Jazz outfit, that plays toe-tappingly sweet music inspired by the music of Django Reinhardt and Stephane Grappelli's Quintet of the Hot Club of France.
The difference is that whilst most Gypsy Jazz bands today consist entirely of stringed instruments. Django, however, also recorded with accordionist Gus Viseur and clarinettist Hubert Rostaing. Bon Accord follows this lead with a line-up of accordion, clarinet, guitar and double bass, playing both well-known and more contemporary Gypsy Jazz numbers plus French and Latin pieces.


The line up is:
Harry Christian Clarinet

Richard Adey Accordian

Mike Bethel Guitar

Silas Wood Bass

Come, listen and enjoy!
---
Shaine Dorsey Band
• 9th November •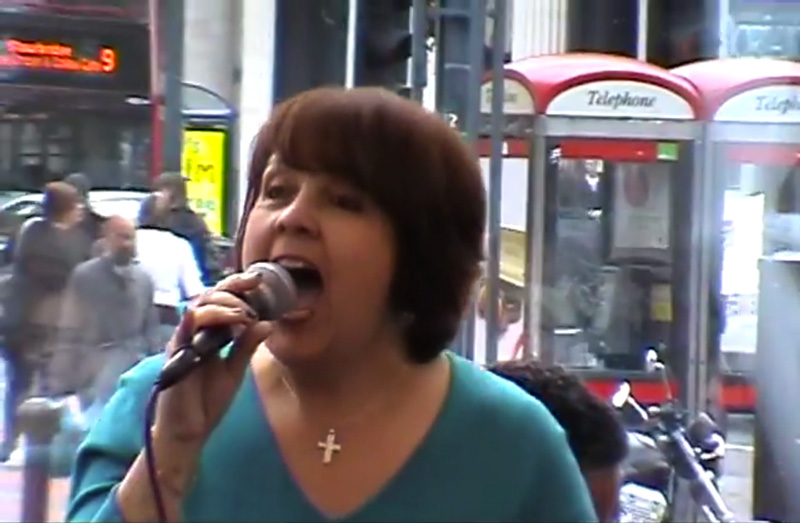 This week we bring you the wonderful voice of singer, Shaine Dorsey, who will be performing for us at the Silvershine Jazz Club. Daughter of popular West Midlands based Jazz & Big Band Swing Singer, the late Warren Dorsey, Shaine was always a very popular performer when she joined in on Andy Hamilton's afternoon gigs at the Drum and the Symphony Hall (above).

Shaine's band will include the excellent Malcolm Gibbons on guitar and Andy Peate on Keys. Come along and enjoy some great music.
---
Blue Notes Jam Night
• 16th November •


This week

it's a Blue Notes Jam Night. The Blue Notes will be joined by Special Guest, Chris Walmsley , on trumpet whilst the Jam Night guests will include Benedict Mann on guitar.
Bring your instrument if you'd like to join in. If not, just come along and listen to some sweet, sweet music.

Features the mellifluous tones of Vic Evans.
---
Ben Thomas Quartet
featuring Jim Blomfield - 23rd November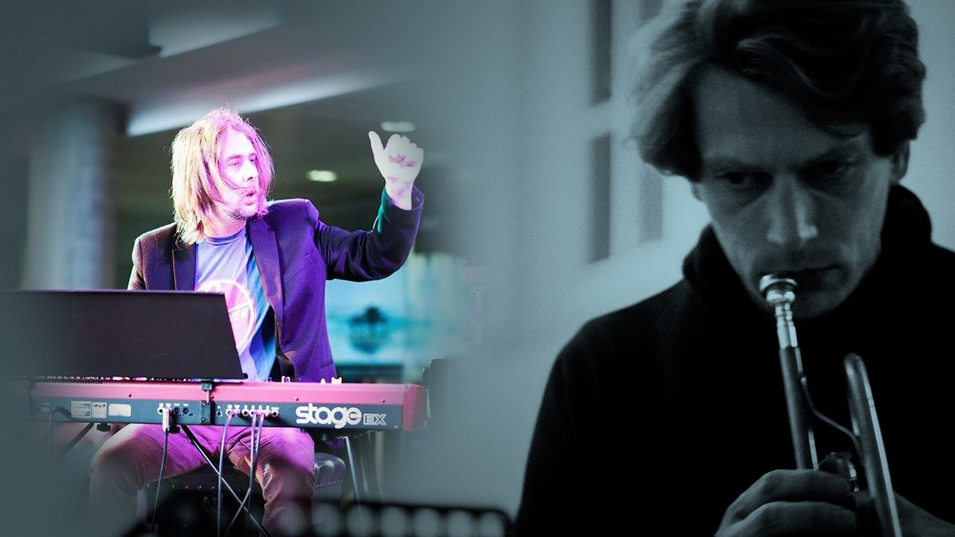 Here at the Silvershine Jazz club we are delighted and proud to announce that we have a top trumpet player coming across from Cardiff this coming Thursday.

Ben Thomas is a truly expressive and lyrical, critically acclaimed trumpeter.

His Quartet will be showcasing original compositions by Ben and acclaimed pianist Jim Blomfield. This performance also features double bassist Pasquale Votino and drummer Paolo Adamo.
Ben has a wealth of experience performing on stage, TV and radio. He has played the major jazz festivals and has a couple of albums to his name.



This is another first for the Silvershine Jazz Club.
Henry Newman Band - 30th Nov


Henry Newman always brings a cracking little band to Bearwood Corks and often drops a few surprises into the line up. This week he's keeping it tight with a 4 piece, but that does involve bringing a trombone into the mix in the form of Conservatoire graduate, Philippa Done.

The full line up is:
 

Henry Newman Keyboards

Ray Brown Bass

Phillipa Done Trombone

Eddie Powell Drums
 


I said above that he's got a 4 piece, but I spoke too soon. Henry has a few guests coming along too play including the amazing Andy Gayle on sax and Musti from the Trumpet in Bilston who'll be playing the congas. Looking to be a good night! Always enjoyable!


---