Dutch Lewis -
8th November
 
Prolific reedsman Dutch Lewis will be making a welcome return to Bearwood Corks to front a Blue Notes line up which will include Ralf Decambre on guitar, Tim Aman on keys, Julius Fu on bass, Julian Powell on drums and, of course, our wonderful vocalist Vic Evans.
 
Primarily a saxophonist (all sizes), Dutch also plays clarinets and the flute, and for many years he offered unflinching support to Andy Hamilton. You can be sure that Dutch's hot licks on a panoply of wind instruments will provide the fireworks to light up this night!
 
Fred Webb -
15th November
 
Seen below performing with James Renford and The Blue Notes, Fred is also a regular vocalist with The Notebenders. A popular local performer his musical career started in Rock 'n' Roll (his fashion sense gives that away) before making his move into Jazz and Big Band Swing. Here he fronts his own band, following up a succesful first FWQ gig at the Corks almost a year ago to the day.
 
Out Of The Blue Jazz Orchestra -
22nd November
Formerly known as the Blue Max Big Band, Out of the Blue was formed in the early nineteen nineties by members of a jazz workshop run by Andy Hamilton. With a repertoire drawn from the classic swing arrangements of the Basie and Ellington orchestras together with more modern numbers by the likes of the great Sammy Nestico, the band has built a high reputation in Birmingham and the Midlands.
They are now under the musical direction of Jo James and feature singer Tracy Lovejoy who brings a wonderful "Northern Soul" feel to their vocal numbers.
 
David Lloyd Henry & the Flat 5 Band -
29th November
 
David Lloyd Henry (AKA Gabby) is a Jamaican Guitarist with a unique style who's worked with some of the big names of popular music, including Jimmy Cliff, Rita Marley, Wyclef Jean, and the Isley Brothers. You can always expect an array of great guests when Gabby brings his posse to the Corks!
 
The video below is from his last vist to Corks and it features Peter Lewis, a young sax player who was presented with a saxophone by his church at an Andy Hamilton gig at the Corks just a few years ago.
 
AVTAR KAHLSI WILL PLAY WITH
DAVID LLOYD HENRY'S FLAT 5 BAND
Avtar plays tenor sax with a deep rich tone. He sarted learning under Andy Hamilton at the Ladywood Community School of Music and has gone from there to the Birmingham Conservatoire via the Notebenders. He now teaches at the Ladywood Community School of Music. He's well worth coming out to see, so if you pick up this late news tell your friends...                    ...and tell your enemies too!
RUSS ESCRITT RIP
Like all Jazz lovers across the region we at Bearwood Jazz regret the sad passing of Jazz photographer Russ Escritt after a long illness. Russ produced many iconic images during our residency at The Bear Tavern and more recently here at the Bearwood Corks Club. One particular favourite was a black and white photo of legendary Blue Notes pianist Sam Brown.
In many ways the death of Russ in the same year as our founder, Andy Hamilton MBE, marks the end of an era. However they both live on in the photo Russ took of Andy at the Corks which now looks down on procedings at the club from the left of the stage.
Our deepest sympathy goes out to his wife Jenny and to all his family and friends.
Tributes to Russ appear on The Jazz Breakfast and on the Flickr site of Garry Corbett, friend and fellow Jazz photographer who took this photo.
 
Definition Of Magic -
13th December
 
Here's the latest on this week's gig, Definition of Magic on Thursday 13th December.
Definition Of Magic is a scintillating synthesis of jazz, funk, reggae and other styles. An exciting line-up features jazz saxophonist Andy Gayle who toured America with Papa Saxa and Ska band, the International Beat, Pete Beresford (Herbert Spliffington Allstars) on keys former Blue Notes, the excellent Miles Levin on drums and former Andy Hamilton and the Blue Notes, Au Pairs and End Of Chat ('80s band with Graeme Hamilton) guitarist Paul Foad...
...plus Andy Hamilton's granddaughter, Sophie Hamilton-Foad and Kevin McCann (ex Side Kick) on vocals...
The band's line up is completed by Julius Fu on bass and Kane Forster (also of Sambuca Diaries and the Keele University Big Band) on trumpet.
Special guests on the night will be Vic Evans on vocals, Johnny Hoo on drums, rapper Bilal and Gambian rapper Mo Hawk who will bring an added World Music touch to the evening (check him out on Youtube).
It all sounds good to me!
Soweto Kinch

SILVERSHINE JAZZ CLUB LAUNCH
20th December
This Thursday we are officially relaunching the Bearwood Corks Club Jazz Night as the Silvershine Jazz Club in honour of our founder, Andy Hamilton MBE. For the launch we have very special guest Soweto Kinch who is taking time out from working on his new album scheduled for release in February. He will be joined by the Blue Notes and other guests including the wonderful Steve Ajao and others including Andy Hamilton's granddaughter Sophie Hamilton-Foad, Tim Amann's son Aiden whose drumming became a regular attraction at Andy Hamilton's Symphony Hall gigs and Julian Powell who we're hoping will bring his vibraphone.
Vic Evans, Dutch Lewis, Andy Peate, Tim Amann, Miles Levin (NO LESS!), Ralf DeCambre and Trevor Lines will form what can only be described as a cracking Blue Notes line up, with the added mouthwatering prospect of long serving Blue Notes drummer Johnny Hoo sitting in on a few numbers. With all this, some pre-show and interval entertainment and the prospect of more surprise guests on the night it promises to be a very special gig indeed.
If you're coming to Corks for the first time you can find us by looking out for our new banner. Also, if you missed it on the radio you can catch up with a preview of the night on the Carl Chinn show on the iPlayer
Better to turn up early than late on this one.

End Of Year Jam - 27th December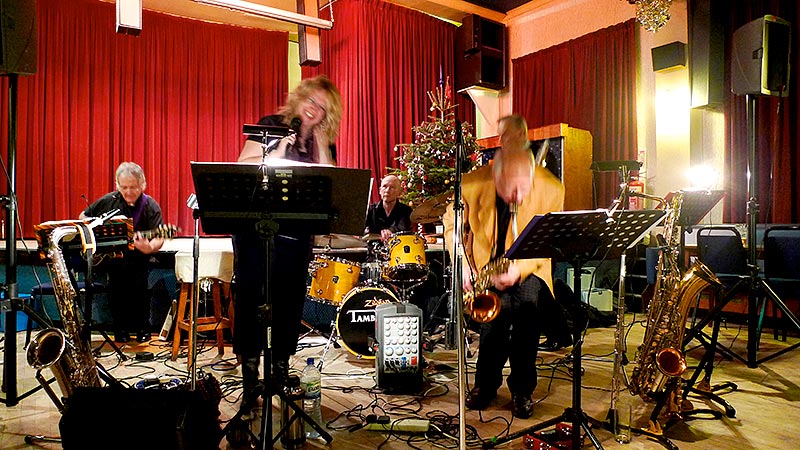 The following Thursday we will have an end of year jam night which, following in the tradition of the Corks Club jam nights will showcase many of the great artists both below and above the radar who turn up with their instruments to jam with The Blue Notes. They can be youngsters looking to get experience of performing in public, members of the Notebenders or students of our musicians, or they can be bigger names like Yazz Alexander or Bobby Woods or even (dare I say) in the past we've had session musicians from the Hit Factory and Nashville Tennessee who turned up on the off chance.
Dutch Lewis (seen above, putting some joie de vivre into Christmas with his wife Jayne) will be on hand to make sure it all goes smoothly. All I can really say is prepare to be surprised! It will be good!
 
---
Welcome to the new look website. We hope you like it...
                                                                  ..."Jazz Every Thursday" at Bearwood Corks Club is being rebranded as the "Silvershine Jazz Club" after the 'best selling' album by our founder, Andy Hamilton MBE. Andy has run a Jazz Club in Bearwood for many decades which has showcased some of the best Jazz from the West Midlands, the UK and overseas. Keeping Jazz alive in Bearwood is just a part of establishing and maintaining a legacy for the great man.
The "official" launch of the Silvershine Jazz Club will be on Thursday 20th December. That's the Thursday before Christmas and we hope to make it a wonderful celebration of the best of the region's Jazz. Meanwhile our regular programme continues and you can see what's on offer below:
---
Steve Ajao Quartet
- 10th January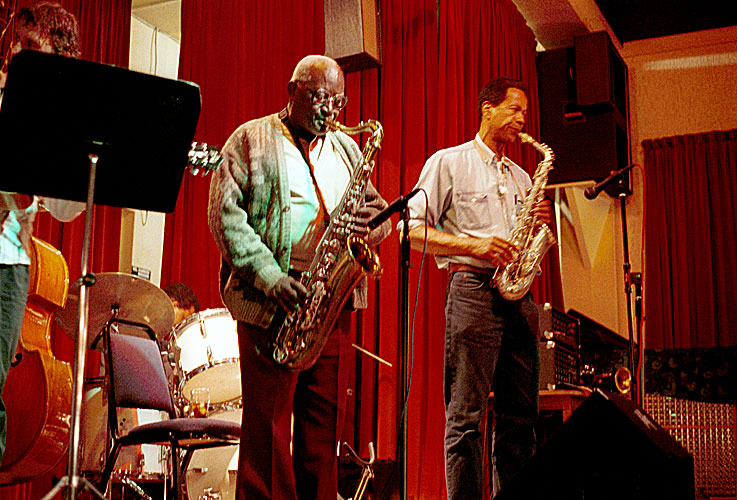 Steve Ajao is Birmingham's best loved Bebop artist, Steve (seen above playin with Andy Hamilton) is a renowned local Jazz and Blues musician. He came to prominence in the eighties when he played with the great Red Rodney, Charlie Parker's trumpet player in London and Brighton. A beautifully inventive Alto player and a joy to hear
To whet your appetite we've embedded some Youtube footage of Steve and band playing Anthropology. For anyone who hasn't seen Steve play he's a pretty cool guy and a must for your diary.
The Blue Notes
- 17th & 24th January
The hot news is that we can make the 24th a bit of a jam session so jazzers feel free to bring your instruments and join in.
The Blue Notes line up for the 24th January is essentially the same as for the 17th. We're still waiting on a couple of confirmations, but Keith York will be there on drums and last week he was excellent, perfectly complimenting the Blue Notes line up. Let's face it he's a top notch drummer with a great record in the music industry.

The Blue Notes this week will feature Vic Evans on vocals and Dutch Lewis on his amazing collection of saxes and other wind instruments and Andy Peate on piano, but besides that we have a return for two former Blue Notes, Ralf DeCambre and Fitzroy Coward.
Both spent long periods in the Blue Notes, but not at the same time. Ralf was around when Andy Hamilton recorded his classic album Silvershine and featured on it as well as on many TV shows around that period (late '80s early '90s) while Fitz joined the band after Brian Wright and before Ray rejoined in recent years. Both are very much a part of the classic Blue Note sound.
PLUS KEITH YORK ON DRUMS...
As a late addition to the Blue Notes line up we have Keith York on drums. Keith is a great local talent who has played in Bentley Rhythm Ace as well as on Broadcast's first album, and played with those bands on shows such as Top Of The Pops and Jools Holland's Later. More recently he's fronted his own Jazz band which has played places like the Mostly Jazz Festival (below)
 
JAYNE STEELE
with The Dutch Lewis Broadband - 31st January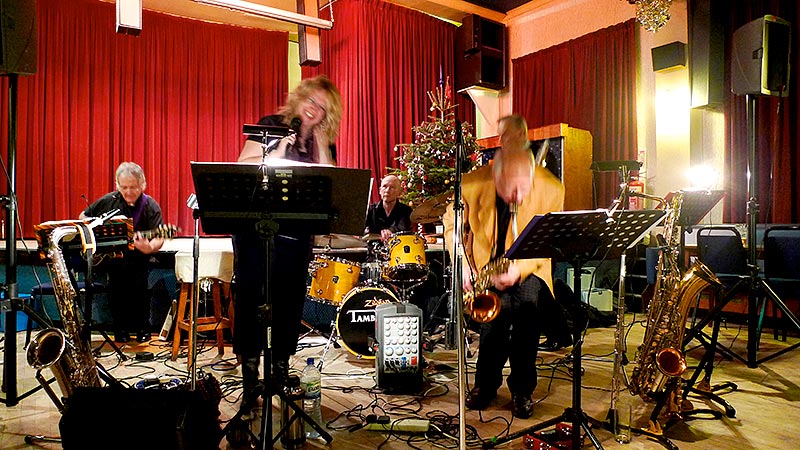 Jayne Steele brings own take to Jazz standards as well as jazz adaptations of songs by the likes of Corinne Bailey Rae and Eva Cassidy along with some of her own pieces, whilst Dutch will bring along his now legendary array of saxes and other instruments and undoubtedly delight us with some blazing solos. They will be joined the rest of the Dutch Lewis Broadband including Trevor Davies on guitar.