EVERY THURSDAY AT BEARWOOD CORKS CLUB

558 Bearwood Road (corner of Sherwood Rd), Smethwick B66 4BT - 9pm (doors 8.30)
 

Steve Ajao Quartet
- 5th December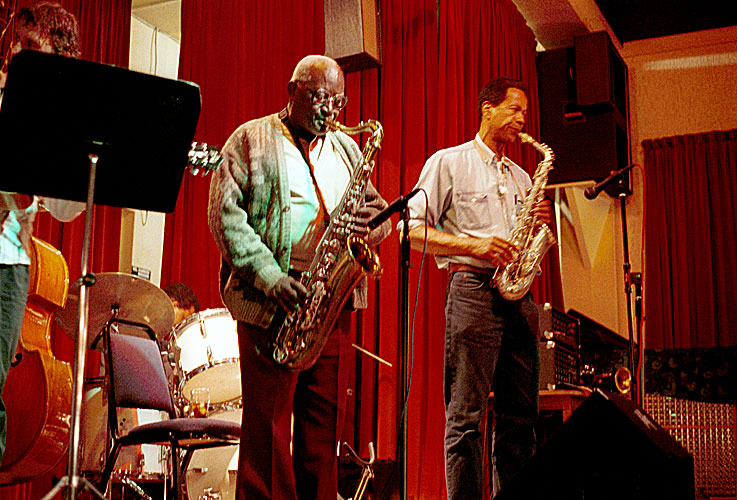 Steve Ajao is Birmingham's best loved Bebop artist, Steve (seen above playin with Andy Hamilton) is a renowned local Jazz and Blues musician. He came to prominence in the eighties when he played with the great Red Rodney, Charlie Parker's trumpet player in London and Brighton. A beautifully inventive Alto player and a joy to hear
The mouthwatering line up for this event is:
Steve Ajao - sax
Miles Levin - drums
Simon "Smudge" Smith - bass
John Smith - guitar
To whet your appetite we've embedded some Youtube footage of Steve and band playing Anthropology. For anyone who hasn't seen Steve play he's a pretty cool guy and a must for your diary.
---



Reuben James Presents
KANSAS SMITTY'S
with Soweto Kinch
- Thursday 12th Dec -

★            ★            ★            ★            ★
  Soweto Kinch will be joining Kansas Smitty's for tonight's gig. This is great news. Soweto is one of the most commercially successful Jazz musicians to come out of Birmingham and was our Star Guest for our opening night, when we re-launched as the Silvershine Jazz Club

★            ★            ★            ★            ★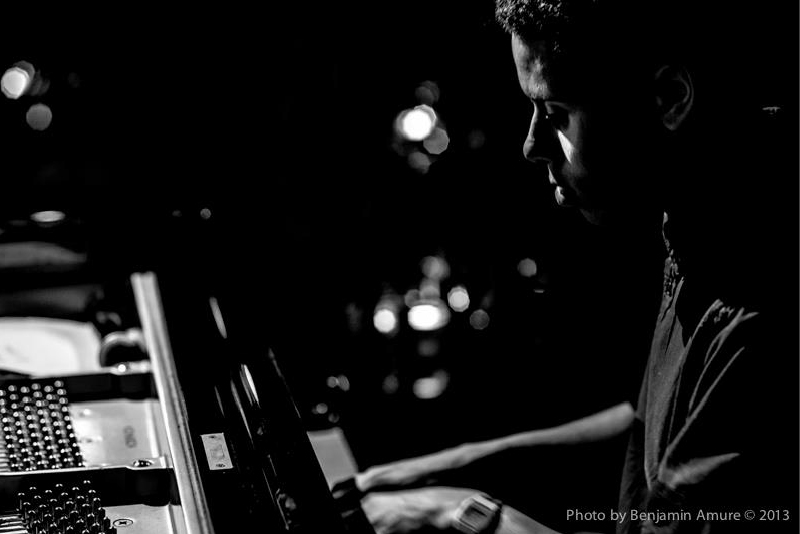 This coming Thursday (5th Dec) Reuben James is brings Kansas Smitty's back to the Silvershine Jazz Club. All the Band members are musicians who've been making quite a name for themselves in venues like Ronnie Scott's. We now have the full line up and it comes with a twist, with Theon Cross on tuba, quite rare in a modern Jazz outfit. They are:
Reuben James - Piano

Ferg Ireland - double Bass

dave archer - Guitar

Ruben Fox - tenor

Pedro Segundo - drums

Theon Cross - Tuba
Pedro segundo is the dynamic Portuguese house drummer for Ronnie Scott's and timpanist for royal Scottish chamber orchestra, Fergus Ireland bass is a jazz scholar at the Royal Academy of Music, Dave Archer is to Kansas Smitty's what Freddy Green was to the Basie band while Ruben fox is a longtime member of the Kinetica Group and one of London's rising tenor stars.
As for Reuben you quite probably don't need telling, but he started his Jazz career at a very young age in The Notebenders Big Band, a community project started by Andy Hamilton. He went through Birmingham Youth Jazz and toured with Abram Wilson before going on to study Jazz in London. We're just lucky that he can now bring the very best London based musicians back to Bearwood.

What Reuben's blurb says about Kansas Smitty's is:
"Jazz ain't no background music...

Reuben James presents the era of jazz that saw the likes of Lester Young, Count Basie, Ben Webster and Charlie Parker taking risks, expressing themselves and getting people on their feet into the wee hours of the morning.
Kansas Smitty's brings that vibe to you LIVE. Don't be fooled though, this is no vintage hang. This is swing. Here. Now."

The price has gone up since Smitty's fiorst visit to the Corks, but that's what happens as their reputation grows. This should be a wonderful gig. Kansas Smitty's swing and Reuben never disappoints. If you need need convincing check them out on Youtube. Be there!
Starts 9pm Admission £6(£5 concs)

---
Bobby Wellins
with

The Blue Notes


plus Saxophone Workshop - 19th Dec
On the 19th Bobby Wellins, one of Britains leading Jazz musicians, will be joining the Blue Notes for our Christmas Party. Bobby Wellins is an icon of modern jazz. He collaborated on Stan Tracey's "Under Milk Wood", one of the biggest selling UK jazz albums ever. In the eighties he re-established himself as one of the finest melodic saxophonists in the world, leading the Charlie Watts Big Band.
A gentle sound and a unique approach.
Bobby was always one of the musicians that Andy Hamilton loved to bring to the Corks, so it is wonderful news that he is coming to play with The Blue Notes...
Saxophone Workshop
...It is also wonderful news that before the gig he will be holding a Saxophone workshop. Thios will be of immense benefit to Sax players of all levels. The workshop runs from 5-7pm whilst the gig is at the usual 9pm. The £15 admission to the workshop includes admission to the gig afterwards. Those interested shoul contact bearwoodjazz@gmail.com

---
THE BLUE NOTES
with


Andy Gayle & Andy Peate
- 19th Dec -
Andy Gayle (sax) will be lending his dazzling skills to The Blue Notes front line this week along with long time collaborator Andy Peate (tpt). We also have the talented Mr Wayne Scott on drums. Should be very good!
Full line up:
Andy Gayle Sax
 
Andy Peate Trumpet
 
Wayne Scott Drums
 
Tim Amann Keyboards
 
Paul Foad Guitar
 
Jules Fu Bass
 
Vic Evans Vocals

---
THE BLUE NOTES JAM NIGHT - 26th Dec
 

Fitzroy Coward and Dutch Lewis return to join the Blue Notes for this weeks Jam Night. Fitz (seen above) was the Blue Notes bass player for many years during the noughties and an integral paty of the Blue Notes sound during that period. He will be joined by Dutch who returns with his panoply of saxophones and other wind instruments and Mal Ritter who will play drums with the Blue Notes for the first time.
Full line up:
Dutch Lewis     Saxes etc
 
Andy Peate     Keyboards
 
Mal Ritter     Drums
 
Paul Foad     Guitar
 
Fitzroy Coward      Bass
 
Vic Evans     Vocals

---
HENRY NEWMAN BAND

feat

Janice Williamson (ex-Black Voices)

- 23rd January


Henry Newman always brings a cracking little band to Bearwood Corks. You can never quite be sure who else will be playing, but it always features Janice Williamson, a top notch vocalist with a big voice . Janice was in the original line up of the acapella Gospel group Black Voices - I've even got a vinyl LP with her on, produced by Basil Gabbidon no less.
The line up above also shows Alvin Davis and Dutch Lewis on sax whilst other musicians who've featured in the past include Andy Gayle (sax), Fred Wisdom (gtr), Wal Warmington (drums), Julian Powell (drums) and Ray (Pablo) Brown (dbl bass). Whatever the line up is though, you can be sure the music will be great.
 
---
B R B & J
- 30th January


BRB & J stands for Billy, Robbie, Benedict and Jacky. They are a group of top notch Conservatoire Jazz students featuring Billy Weir who has already headlined at the Silvershine Club in his own right. The line up is:
Robbie Fearon - Tenor Sax
 
Jacky Naylor - Piano
 
Benedict Muirhead - Bass
 
Billy Weir - Drums
In their words "BRB + J is a joint venture playing music by members of the band and by those that have influenced us. Please don't let the picture fool you, we're not a boy band, we will be playing a lot of fun swingy tunes!"
---