John Smith & Malcolm Gibbons
Guitar Quartet - 24th June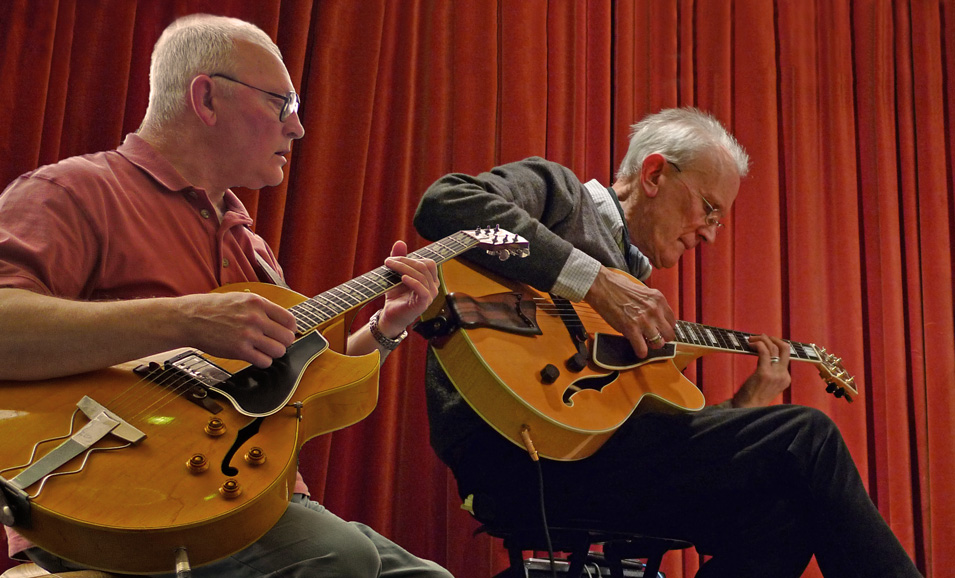 Ace guitarists Malcolm Gibbons and John Smith return to the Silvershine Club to bring us some more scintillating Jazz guitar. John and Malcolm are two of the very best Jazz guitarists in the West Midlands and have played with some of the best the region has to offer including our founder Andy Hamilton MBE and Silvershine favourites the Steve King Big Band.

Completing the quartet are Ray "Pablo" Brown, who played on the Silvershine LP, on double bass and Hamilton family prodigy, Louis Hamilton Foad, on drums
 
This gig is a must for all lovers and players of guitar based music.
---
Mike Bethel & Paul Raybould


Friday 11th June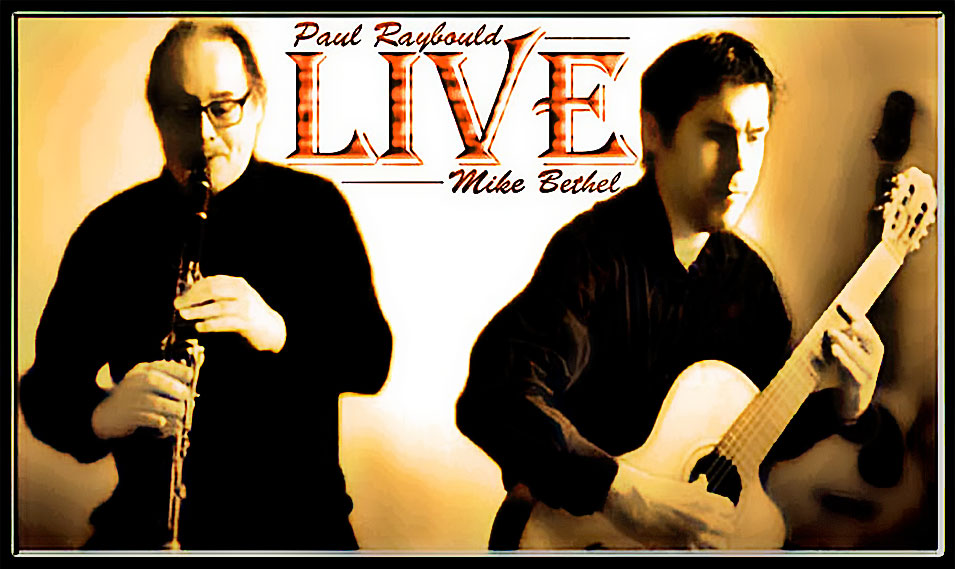 Intimate set from a couple of ever-so-good and ever-so-local Gypsy Jazzers. Your feet won't stop tapping
 
---
Steve Tromans


Friday 4th June
Just a few tickets left, so hurry!


Steve Tromans will be launching his album 'THE WAY' at the Silvershine and, guess what, he has some fabulous musicians accompanying him!

First set:
Second set:
Steve Tromans
Mike Green
Miles Levin
Playing new music written by Steve specially for the event. With special guests:
Jonathan Mayer electric sitar
King Pleasure vocals
Garry Bywater saxophone
Chris Aldridge (Beebe) saxophone
Sid Peacock vocals
He's already received great reviews! Here's a couple:

'A constant unfolding, intimate relationship with the piano. It is a full journey.'
Corey Mwamba, Freeness, BBC Radio 3
'This is a brilliant solo piano album by Steve Tromans. There is a wide range of moods in the music, which range from the gentle and exquisite feel of Track One, "Seeking, finding: a way", to the more abstract approach of Track Two, "Manifest", the mysterious atmosphere of Track Three, "Visitation", the initially joyful mood of followed by a more determined of Track Four, "The Way", leading up to the nicely elegant "Epilogue" of Track Five.'
Tony Dudley Evans
---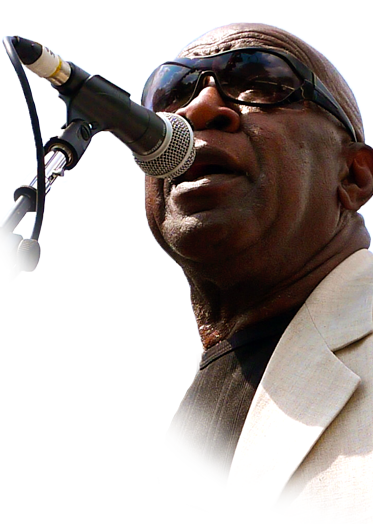 Vic Evans
  & Friends...
 
...kick off a return to live Jazz at The Silvershine Jazz Club in late May. As the country moves cautiously out of lockdown we will be able to put on "socially distanced" gigs once again. Vic will be joined by Blue Notes and other guests, including the fabulous Xhosa Cole.
This gig will be followed by a couple of Album Launches by musicians who, like Vic, have been itching to get out and play live music again. Keep watching this space as reservations may not be that easy to come by and, as the science changes, so might the rules.
 
The Vic Evans gig (21st May) has sold out and there are just a few tickets left for the other gigs. Please message us through Facebook or via email if you'ld like ticets for Tom Ollendorf or Steve Tromans, or if you want to be in the queue for returns for the Vic Evans gig.
 
Tom Ollendorf Trio
Friday 28th May
Tom Ollendorff has appeared at venues and festivals in the France, China, Slovakia, Switzerland, Holland and of course the UK, including leading jazz venues such as The Vortex and the legendary Ronnie Scott's, but he always likes to return to the Silvershine Club and, as we come out of lockdown, he is making a welcome return, as he sets out to promote his new album, ʻA Song For You'.
Now signed to Barcelona based Fresh Sounds Records, Tom is a rising star on the UK and European Jazz scenes who's distinctive style and flair for both composition and improvisation shine through in droves. Completing a longstanding trio and dynamic trio are Marc Michel on drums and Conor Chaplin on bass.
There will be a support set from the Aidan Amann Band. Aidan is an up-and-coming drummer who first amazed us with his talent, jamming with Andy Hamilton. There's only a very few places left for this gig, so book fast!

---
Closed For Lockdown...   
       ...And Still Waiting!
Unfortunately another lockdown followed by a stint in Tier 3 and another lockdown means we have had to close our doors for too long. However we will be back in as soon as we can, so keep watching this space for news...
  
Our last (pre-lockdown) gig with Consevatoire students, the Aidan Amann Trio was wonderful, and made better with a final set by The Blue Notes featuring Vic Evans and a number of guest Conservatoire students (2 saxes and 3 vocalists). We hope to have more gigs in the same vein when we come out of lockdown, and we are currently planning on sticking with the late afternoon Sunday gigs as they seem to be going down well.
  
There was also talk of an album launch in November. Hopefully that can go ahead in the New Year now, but we don't have a date as yet.

---
Aidan Amann Trio


with Leo Morland & Josh Vadiveloo.
SUNDAY 1st Nov (Doors 4.30pm - Music 5.00)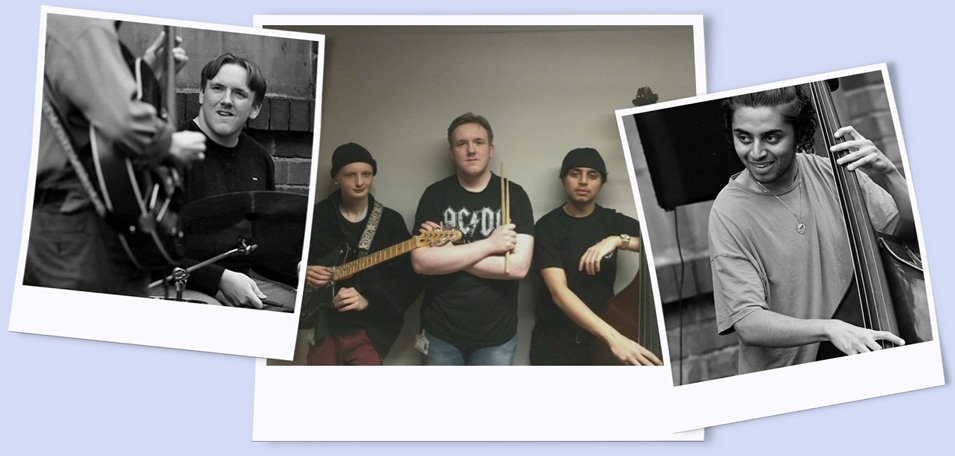 As a kid Aidan showed huge promise as a drummer, jamming at Andy Hamilton's gigs at the Corks and elsewhere. Now in his second year at the Royal Birmingham Conservatoire he brings his own trio to the Silvershine Club. They'll be playing a mixture of classic standards along with some lesser known heads from a range of composers such as Miles Davis, Thelonius Monk and Sonny Rollins.
  
The other members of this wonderful young trio are Leo Morland on guitar & Josh Vadiveloo on bass.
 
With "social distancing" we only have a vlimited number of places left,
so please contact us to book your place now!


---