THANKS A MILLION BOBBY
We'd like say a big thankyou to Bobby Wellins for coming in at very short notice on 25th October to put on an excellent gig at Bearwood Corks and deliver a well received Saxophone Workshop at the Ladywood Community School of Music earlier in the evening.
We'd also like to wish Peter King who was indisposed on the day a very speedy recovery. Hope to see you back at the Corks soon Peter.
---
---
The Highlight of our August Jam Night was a debut performance by 8 year old Isiah Williams playing 'Just in Time'. Isiah has only been learning the Sax for a few months, but he's been getting the best of tuition. You have to watch this; it's magic!

During the Birmingham Jazz Festival we had a fabulous gig, featuring Jamaican Jazz Royalty, Sonny Bradshaw and Myrna Hague. We've put up a little showreel of photos from the gig which we feel conveys the sheer joy of their performance!
Click on the picture (left) to see it.

---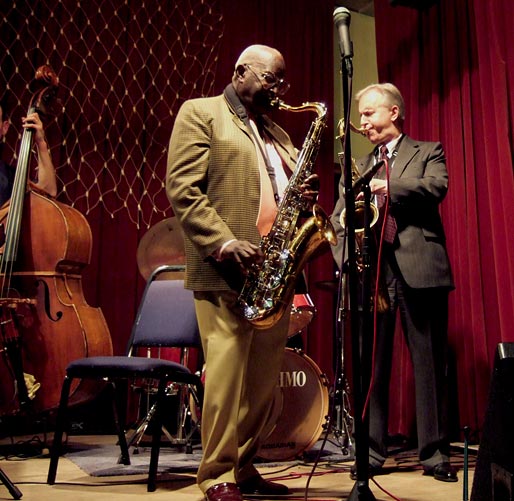 Just 89
The shot above is from Andy Hamilton's 89th Birthday Party with very special guest, Scott Hamilton. It was an amazing night and before the evening was over we were turning people away at the door it was so full. Unfortunately singer Vic Evans took a turn for the worse, but for anyone woindering I've been told he's alright now.
---
David Murray, Hal Singer and Andy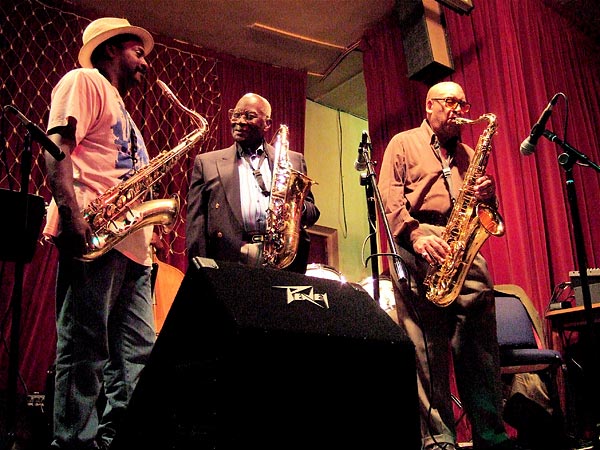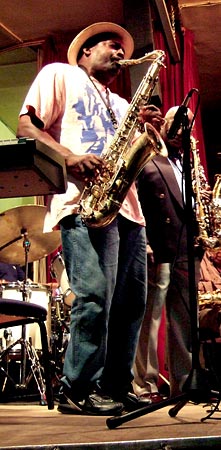 At the end of September '06 we had a visit from two of the best Saxophone players ever to come out of America. Now resident in France, Grammy winner David Murray and Jazz and R&B veteran Hal "Cornbread" Singer came to the West Midlands to play two gigs with Andy Hamilton. The first sensational gig was at Bearwood Corks Club and David Murray said he'd only ever experienced that kind of atmosphere before in New York.
These two photos were taken at that gig and we've got some video footage that we'll be putting up later. Photographers Gary Corbett and Russ Escritt both have plenty of work from this and other gigs on their sites.

---
NEW - ANDY HAMILTON WEBSITE - NEW

Andy Hamilton now has a website dedicated entirely to Andy and the band. You can find it by going to www.andyhamiltonsjazz.co.uk or by clicking on the picture above.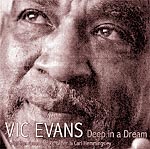 NOW ON SALE at Bearwood Corks Club is "Deep in a Dream" the excellent but long overdue first studio album from Vic Evans, the Blue Notes lead singer. It's currently selling like hot cakes and is soon to go to a reprint. You can buy it for a tenner at any Andy Hamilton & the Blue Notes gig.
---
Last year Andy Hamilton returned to Errol Flynn's legendary yacht, the Zaca, where he played Silvershine and was interviewed for TV. We'd like to thank Alan Cross for letting us use this wonderful photo.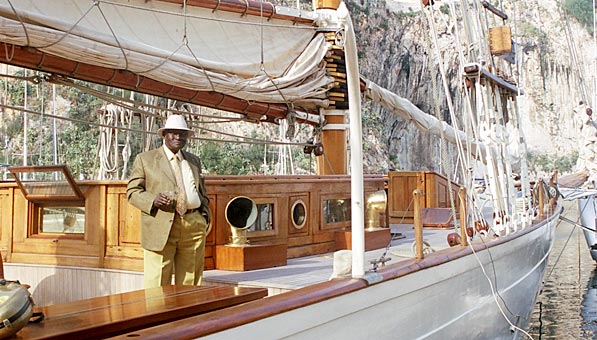 In July The Voice newspaper published an article about Andy Hamilton and his trip back to the Zaca. The article also published on thei website. You just have to click on the logo to see it.
The BBC has a pictue Gallery from Andy Hamilton's 88th Birthday on their website. There are also features about Andy Hamilton and the Ladywood Community School of Music made for Black History Month 2003. The Andy Hamilton section features live music samples from Corks Club.
---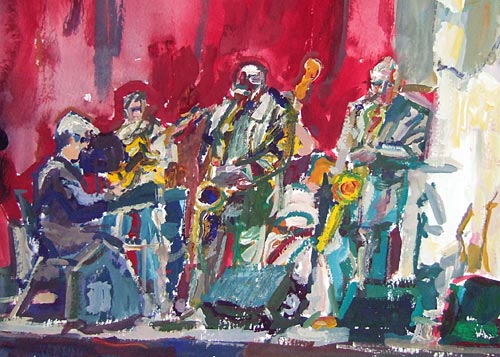 Fans of our "resident artist", Chris Murray will be pleased to see that there has been a major upgrade to his site and that it has been moved to some ad-free webspace. You will find it at www.onlinejones.co.uk/chrismurray and there are lots of recent paintings up there with more to come shortly.
Photographer Garry Corbett has been snapping away at Corks. He amazingly got his photos that he took on the Silvershine night, where David Murray and Hal Singer guested, up on his Flickr site by 11am the next day (or so I've been told). This photo of Vic Evans hands drumming is one of his.
Dick Jones (that's me folks!) has painting, sculpture, drawings and prints on the web, and now has a section dedicated to jazz photography. The site now has the domain name www.onlinejones.co.uk even if it's still hosted on free space.
Jazz Photographer, Russ Escritt has a second website, http://www.russescritt.co.uk . This site features many photos of Andy Hamilton and the Bluenotes as well as images of the many stars who have guested with him over the last ten years. Russ's original site http://www.russpix.co.uk has been redesigned and now features many of the national and international jazz names Russ has photographed.


The Ladywood Community School of Music offers affordable classes in Saxophone, Trumpet, Piano, Guitar, Violin, and Drums with the possibility of doing other instruments.
Run out of Ladywood Health and Community Centre it is the brain child of Andy Hamilton.
Click on picture to find out more about us.

Andy Hamilton's Sunday lunchtime is back but only once a month. There's also a monthly Saturday gig at the Symphony Hall and another Sunday one at a new Afro Caribbean Centre in the Dudley Road - see press for details.