---
SCHEDULE - UP & COMING - PROMOTE US -THE CLUB - GUESTS & JAMS - STOP PRESS - ART
PROMOTE US
.
---
SCHEDULE - UP & COMING - PROMOTE US -THE CLUB - GUESTS & JAMS - STOP PRESS - ART
THE CLUB
At Bearwood Corks Club we run Jazz every Thursday, and, as Corks Club is a Social Club, the new venue makes for an affordable night out in a purpose built Function Room. You'll find us on the corner of Bearwood Road and Sherwood Road virtually opposite Aldi - watch out for our new banner - see the picture on our Map page.
We would like to thank everyone who's attended and helped to spread the word. Let's keep the momentum going or as Andy's Vocalist, Vic Evans, always says "tell you're friends and your enemies too". If you want to know more about us and get regular updates on our programme click the Contact button to join our mailing list,and, remember, if you like Jazz and you haven't seen Andy Hamilton and the Blue Notes you've not been to Birmingham or the Black Country.
---
SCHEDULE - UP & COMING - PROMOTE US -THE CLUB - GUESTS & JAMS - STOP PRESS - ART
GUESTS & JAMS
Dennis Rollins with Andy Hamilton
This photo is from our Jazz Festival gig last year where the wonderful Dennis Rollins teamed up with Andy Hamilton and The Blue Notes to produce a fabulous night's entertainment.
.
---
SCHEDULE - UP & COMING - PROMOTE US -THE CLUB - GUESTS & JAMS - STOP PRESS - ART
STOP PRESS
RUSS ESCRITT RIP
Like all Jazz lovers across the region we at Bearwood Jazz regret the sad passing of Jazz photographer Russ Escritt after a long illness. Russ produced many iconic images during our residency at The Bear Tavern and more recently here at the Bearwood Corks Club. One particular favourite was a black and white photo of legendary Blue Notes pianist Sam Brown.
In many ways the death of Russ in the same year as our founder, Andy Hamilton MBE, marks the end of an era. However they both live on in the photo Russ took of Andy at the Corks which now looks down on procedings at the club from the left of the stage.
Our deepest sympathy goes out to his wife Jenny and to all his family and friends.
Tributes to Russ appear on The Jazz Breakfast and on the Flickr site of Garry Corbett, friend and fellow Jazz photographer who took this photo.
Tributes Continue To Roll In For Andy Hamilton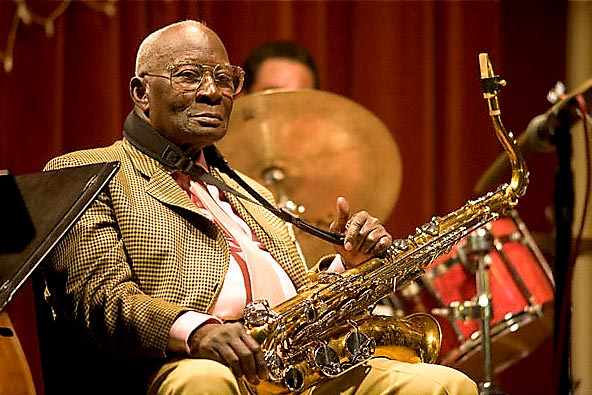 The passing of Andy Hamilton continues to attract great attention accross both national and local media. The latest is the BBC Radio 4 programme 'Last Word' who compiled a brief synopsis of the life of Andy Hamilton using interviews with Carl Chinn, Val Wilmer and Steve Ajao. It first went out last Friday night, but it is being repeated tonight (Sunday 15 July) at 8.30pm. If you miss that you can catch it on the BBC iPlayer.
Here are links to some of the various tributes and obituaries:
Photo by Russ Escritt

Former Blue Note lead vocalist Annn Arscott has been making her own headlines recently. Many of you will be all too aware that she was struck down by a bad stroke last year which left her unable to speak.
Regaining her speech has been a long and drwn out process with the end still a long way off. However regaining the ability to sing has been an altogether speedier process, not surprising for a trained Jazz and Opera singer. Recently the media has picked up on this and she has been featured on ITV local news, The Metro and the Birmingham Mail.
Below we have embedded a short videoarticle from the Birmingham Mail site where you can hear Ann sing Amazing Grace.
Or click here to see the full article
---
I've started an Archive Section to house old articles from our front page to clear space for new information. The Archive currently houses features on the David Murray / Hal singer gig and Andy Hamilton's return to the Zaka among other things.

---

ART & PHOTOGRAPHY
TWO BOOKS OF JAZZ PHOTOGRAPHY
BY RUSS ESCRITT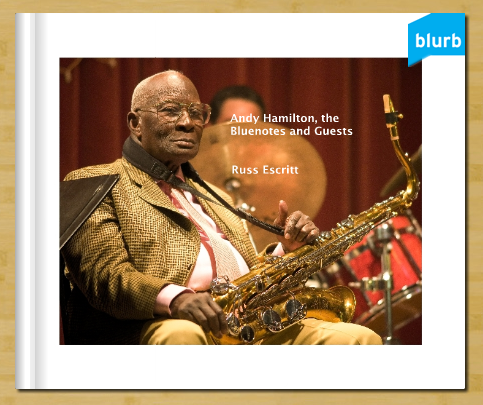 Jazz photographer Russ Escritt has just launched a couple of new books of his work which are available to buy. The first new book (cover above) features his photography of Andy Hamilton & The Blue Notes and guests who have played with him over the years.
You can buy it from Blurb) at:
http://www.blurb.com/bookstore/invited/701680/fd31e1926a136edff1b08dfdf4e5736d
It features the photo of Sam Brown that Russ kindly allowed us to use on this website.
The second is of his colour photograpy, which you also can buy at Blurb:
http://www.blurb.com/bookstore/invited/701638/90a56f1193c40be14f8a7811a8df43ed
This one is a follow on from one he launched of black and white photography, still available at
http://www.blurb.com/bookstore/detail/840984
---
Photographer Garry Corbett has been snapping away at Corks. He amazingly got his photos that he took on the Silvershine night, where David Murray and Hal Singer guested, up on his Flickr site by 11am the next day (or so I've been told). This photo of Vic Evans hands drumming is one of his.
Dick Jones (that's me folks!) has painting, sculpture, drawings and prints on the web, and now has a section dedicated to jazz photography. The site now has the domain name www.onlinejones.co.uk even if it's still hosted on free space.
Jazz Photographer, Russ Escritt is moving his work to a new website at www.photoshelter.com/c/russescritt/. On the new site the work is displayed in a Flash player and there are improved search facilities. Also now russescritt.org
The old sites at http://www.russescritt.co.uk and http://www.russpix.co.uk remain in place for now at least, and you can see more of his work on Flickr.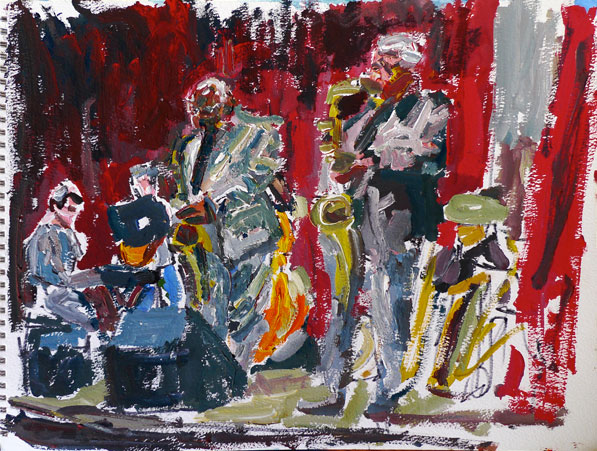 He's not been down the Corks for a while, but Chris Murray used to come down regularly with his paint brushes. The pictue above was painted at Andy's 92nd Birthday. Anyone wishing to see or buy his art can see more of his work at www.onlinejones.co.uk/chrismurray
SCHEDULE - UP & COMING - PROMOTE US -THE CLUB - GUESTS & JAMS - STOP PRESS - ART