ANDY HAMILTON MBE (1918 – 2012)
A CELEBRATION OF HIS LIFE
SYMPHONY HALL, BIRMINGHAM
2.30PM TUESDAY 26 JUNE 2012
FREE ADMISSION
www.thsh.co.uk/event/andy-hamilton-a-celebration-of-his-life
A celebration of the life and work of the legendary Jamaican-British jazz musician and community figurehead Andy Hamilton is to take place at Symphony Hall on Tuesday 26 June at 2.30pm.
The afternoon event, featuring a number of performances and tributes from musicians and friends including the Notebenders Big Band, the Blue Notes, David Murray, Jean Toussaint, Gary Crosby, Nana Tsiboe, Helen McDonald and Winston Clifford, will be compered by Prof Carl Chinn. Further guests are to be announced.
Admission is free to members of the public on a first-come, first-served basis (subject to availability). Doors open at 1.45pm.
A display of photos by Smethwick-based photographer Russ Escritt will also be on show in Symphony Hall's foyer throughout Tuesday 26 June. From the early 1990s, Russ documented Andy Hamilton's gigs with the Blue Notes and guests at his various residencies in Bearwood in Birmingham, and the photos originally appeared in the Symphony Hall exhibition Andy Hamilton is 90 in 2008.
There will be an informal opportunity to pay tribute to Andy after the event, and a collection will be held for several organisations that he was closely involved with.
The funeral of Andy Hamilton MBE will take place at 10.00am on Tuesday 26 June 2012 at the Birmingham Christian Centre, Parade, Birmingham, West Midlands B1 3QQ.
The Hamilton family invite attendees to wear colourful accessories to the funeral, in honour of Andy's love of wearing colourful ties.
Please note that there is no parking facility at the church on the day of the funeral. Attendees are advised to avoid parking in the immediate vicinity of the Birmingham Christian Centre or to use public transport where possible.
Flowers will be gratefully received and proceeds from donations at both events will be donated to The Ladywood School of Music, Moseley Hall Hospital, The Andy Hamilton Trust (The Notebenders) and The Karis Medical Centre, Ladywood.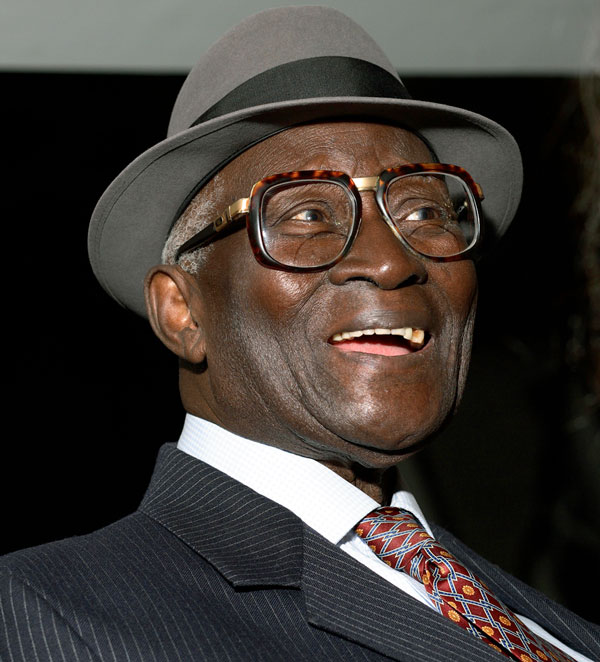 Andy Raphael Thomas Hamilton (26 March 1918 - 3 June 2012).
Andy's 92nd Birthday Party with Art Themen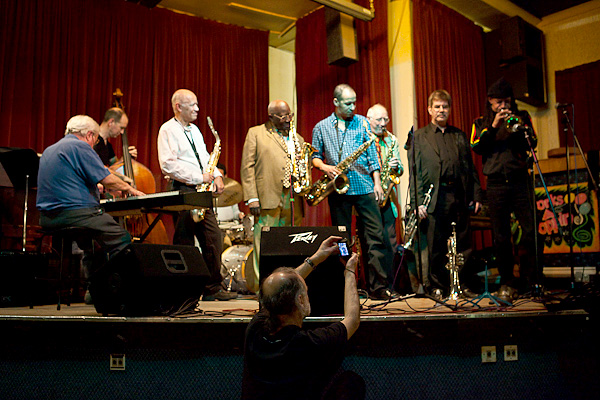 Russ Escritt emailed me this photo from Andy's 92nd Birthday Party at the Corks as it's got me photographing the band in it. Camera shy I might be, but there's a good panoply of all the guests on show that night. Art Themen is the Sax player on the left while that's Andy's son Graeme playing trumpet on the right. Russ has a new website and three books of his photo available to buy.
Nice one Russ!
with the Morgan Brothers
It was just for one night, but it was a wonderful nostalgia trip to be back at the Bear Tavern to see Huw and Chris Morgan. Although they won't have played there themselves, it was a wonderful night out for those of us who remember Jazz At The Bear, and it was a good night, well attended with great music. There was just something special about it!
---
Charity Concert raises £239 for the Pakistan Floods Appeal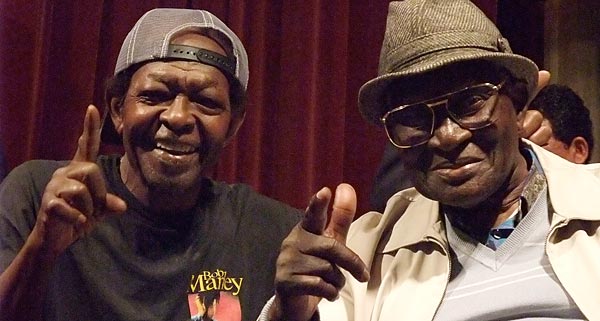 Yes, we had a good night on Thusday 7th October when people turned out to raise money for the Pakistan Floods Appeal. Unfortunately Andy Hamilton himself was unable to attend but there was a host of guests including The Notebenders Big Band and Satch Dixon (pictured above with Andy) who came along with Pete Bersford. When Gwen King got up to sing Smile one couple who had to leave early turned round and stayed to listen. Satch returns shortly with the Herbert Spliffington Allstars.
The main attraction was, of course, the Blue Notes, but other guests included vocalist Fred Webb and blues harp specialist Dr Johnny who donated some CDs which sold all bar two. The final tally was £239 which was payed in to the DEC's appeal using the Post Office's Freepay facility.

This looks like a great weekend Jazz Festival. Dates July 3rd and 4th and it features Courtney Pine, Sun Ra Arkestra, James Taylor Quartet, Lizzy Parks, Steve Ajao and a host of others along with our very own Andy Hamilton &The Blue Notes.
Tickets are £28.50 for the day or £48.50 for the weekend. For more information visit their website at www.mostlyjazz.co.uk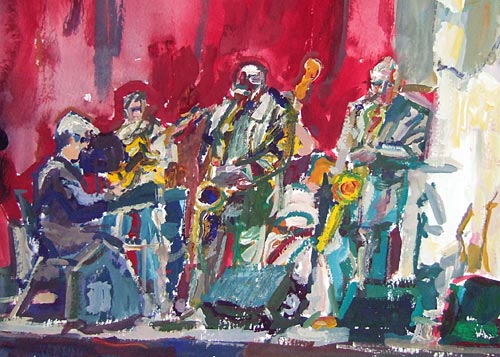 Fans of our "resident artist", Chris Murray will be pleased to see that there has been a major upgrade to his site and that it has been moved to some ad-free webspace. You will find it at www.onlinejones.co.uk/chrismurray and there are lots of recent paintings up there with more to come shortly.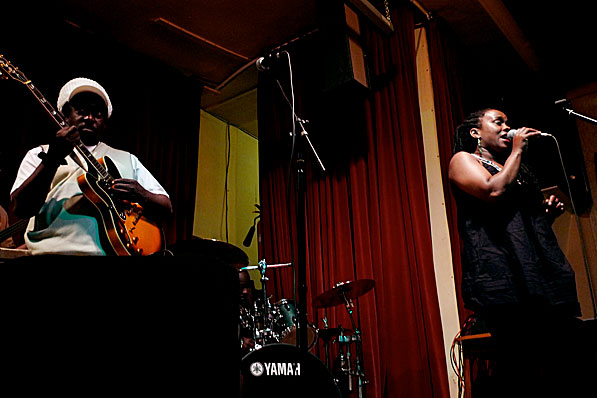 Here's a photo With a nice Jazz mood. It's guitarist David Lloyd Henry performing with singer Indigo at Corks Club on 18th June. Click here to view a larger version.
Sonny Bradshaw OD
1926 - 2009
RIP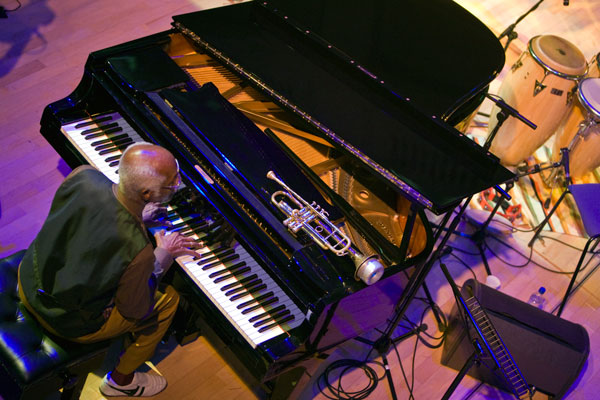 At Bearwood Corks we were all saddened to hear of the death of Sonny Bradshaw (above - photo by Russ Escritt at Andy Hamilton's 90th Birthday Conert at Birmingham Town Hall) last week. Sonny Bradshaw was the leading light of all things Jazz in Jamaica and his influence reached all the music to come from that island including Ska, Rock Steady and of course Reggae.
We are proud to say that he played for Bearwood Jazz with his wife, the singer Myrna Hague, on many occasions both at Bearwood Corks Club and at our old venue, The Bear Tavern. Our thoughts go out to Myrna on this sad occasion.
Below we have published an obituary, sent to us by Dune Records.
"Very sad news. We heard last Sunday from our dear friend, Myrna Hague that her husband, Sonny Bradshaw (83) passed away late on Saturday night (10 October) in a London hospital. Sonny has been a long-time friend and mentor of Dune/Tomorrow's Warriors director, Gary Crosby.
Sonny suffered a bad stroke in August but seemed to be recovering well in hospital. Myrna had been to visit him in hospital on Saturday where she said they'd spent a lovely time out in the sun in the hospital gardens, listening to music, and he was fine when she left. She received a call around 10.45pm to say that his condition was deteriorating. By the time she reached the hospital, he had passed away. Understandably, Myrna is heartbroken that she 'never had the chance to hold his hand and say goodbye'.
Trumpeter and bandleader, Sonny Bradshaw was one of the last links to the big band craze that took hold in Jamaica during the 1940s. His contemporaries include saxophonists Tommy McCook and Joe Harriott, who were his colleagues in the All Star Band.
Sonny formed the Jamaica Big Band in the early 1950s and also directed the Sonny Bradshaw Seven in which a number of leading musicians, including the young saxophonist Joe Harriott.
He was a former president of the Jamaica Federation of Musicians and was responsible for initiating Jamaica's first music copyright act. He also wrote a weekly column, 'Musicman', in The Star, The Jamaican Gleaner's afternoon tabloid.
Since 1991, Sonny and his wife, Jamaica's top jazz singer, Myrna Hague have promoted the Ocho Rios Jazz Festival, an annual event held in June throughout Ocho Rios and Kingston. The couple are to Jamaica what John Dankworth and Cleo Laine are to the UK.
Sonny was awarded the Order of Distinction (OD) in the rank of Commander (CD) in 2004 for outstanding performance in the field of music and entertainment. Up until his death, Sonny continued to play trumpet and piano, often accompanying his wife, Myrna in shows around the world. Asked about the possibility of hanging up his trumpet and retiring he insisted: "The only time we'll stop is when we drop down". He certainly remained true to his word.
Our thoughts are of course with Myrna at this time."
A memorial service is to be held on
Tuesday 27th October
at 12 noon
Gants Hill Methodist Church
Gantshill Cresent
Ilford IG2 6TU
Peter Gill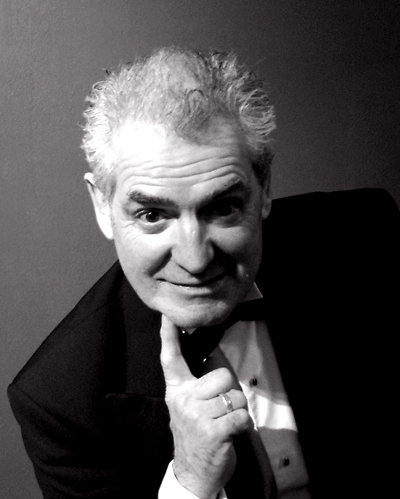 Everyone at Bearwood Jazz was saddened by the untimely recent death of Peter Gill. Popular with everyone who knew him Peter often sang at the Corks, sitting in with the Blue Notes.
The song he'll be best remembered for is "Days Of Wine And Roses", and for all those who knew and loved him the days of wine and roses have just run away.
There is a full obituary by Andy Peate on the JazzWestMids website

MIR Staff Set Up New Business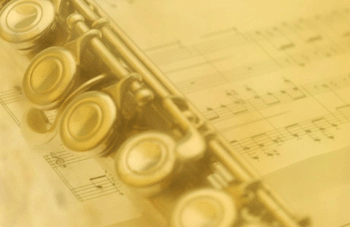 Most Instrumentalists who check out this site will probably know by now that MIR Musical Instrument Repairs has closed down. What you may not know though, is that their expert repairers have now set up their own business.
The business specialises in repairs with less emphasis on selling instruments; You may still want to visit them to buy more specialist and sought after instruments. They now call themselves Connolly Musical Instument Repairs and if you want to contact them here are the details:
Address: Connolly Musical Instrument Repairs
'Beersheba' Bustleholme Ave
West Bromwich
West Midlands
B71 3BA
Tel: 0121 588 5301 Mob: 07949 290 240
email: enquiries@connolly-mir.co.uk
---
Chris Murray Paintings from Andy's Big Birthday Bash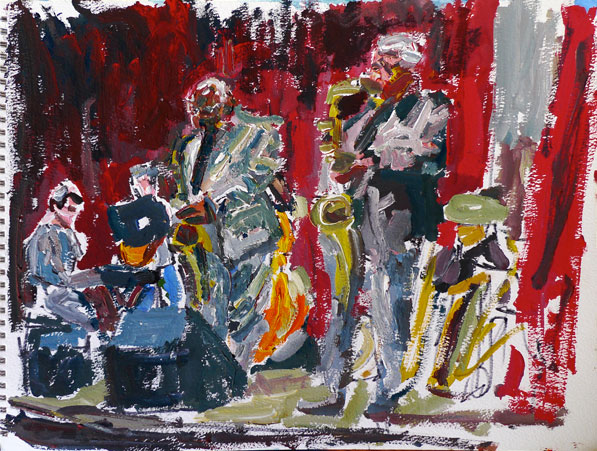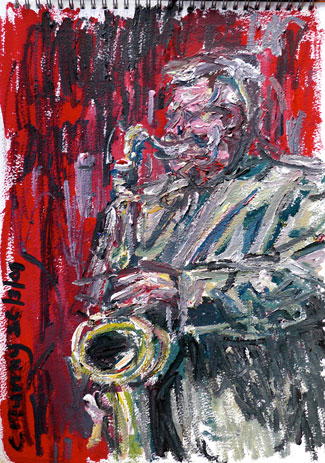 This year at Andy's Birthday Party Artist, Chris Murray produced these two wonderful paintings. The top one is of Scott Hamilton playing with Andy Hamilton and the Blue Notes; and behind the two stars you can clearly see Tim Amann on keys and Paul Foad on guitar.
The one on the left is of Scott Hamilton on his own. All great stuff and it's amazing that we're able to get these images up on the net before any photographs. Anyone wishing to see or buy his art can see more of his work at www.onlinejones.co.uk/chrismurray
If he's got any sense he'll be whacking up the prices for these two little beauties.
Here's a video clip from Steve Ajao's January gig at Corks. He's playing a tune based on Surf Ride by Art Pepper and the band includes Tim Amann, Tom Hill and Miles Levin. Click on the buttons at the bottom right of the video and you can see it in HD and full screen, or click here to open it in HD on Youtube.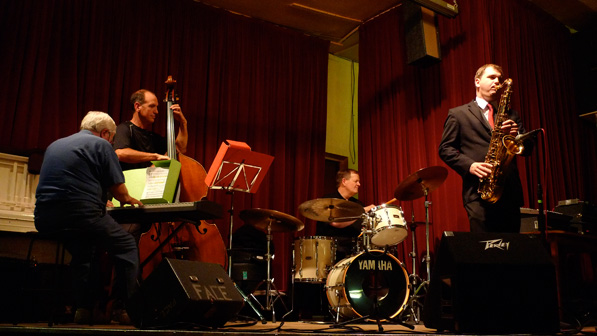 Here's a shot from the wonderful Simon Spillett gig at Bearwood Corks in October. We had a great crowd and they all went home knowing they'd seen something special
---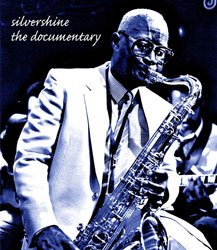 SILVERSHINE DOCUMENTARY
For One Night Only
The Silvershine film documentary made in 1985 will receive a rareone-off sreening at the Library Theatre on Monday 13th October. It's part of the Film First Festival and admission is FREE! Doors open at 6.30pm with an open licensed bar (typo on flyer sorry) with the screening due to start around 7.30pm.
Click here to download the Flyer
---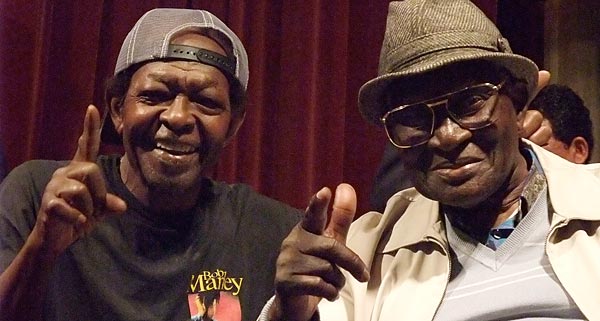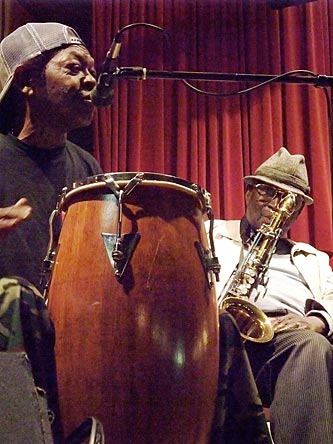 HISTORY MEN
What's so wonderful about Jazz nights is that you never know who might turn up and play.
For the June Jam Night Andy had booked Pete Beresford, an out of town pianist and he brought with him a percussionist and singer from Llangollen called Satch Dixon (pictured with Andy).
Satch hails originally from Jamaica where he had actually seen Andy play during the 1940s. We have footage of him performing with young Isiah Williams and you can now watch it below, or in our Video Gallery. A little bit of history as the past and the future come together!

---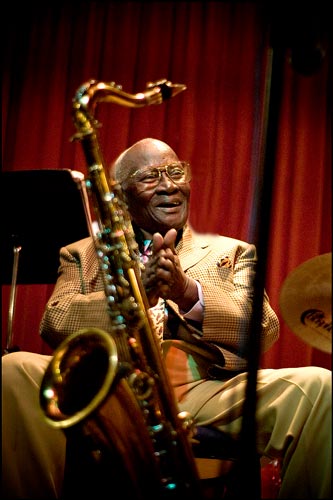 OH WHAT A NIGHT!
Garry Corbett took this wonderful photo of Andy on stage at his 90th Birthday Party at Bearwood Corks, and posted it on his Flickr site the same night. We feel it says everything.
It was a fabulous night with a wonderful party atmosphere. Corks was packed to the rafters and, of course, there was great music from Andy, Scott Hamilton and all the other great musicians.
Garry has now posted more pictures, so click on the picture to go to the page the picture is on or click here to go to Garry's Flickr Corks Club pages.

ANDY'S 90th BIRTHDAY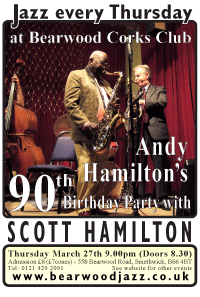 SOUVENIR POSTER
We produced this fabulous poster specially to promote Abdy's 90th Birthday Gig. You can buy it as a high quality A3 print, printed on a professional quaity laser printer with full Post Script.
The price is just £5, and you can buy it at Corks Club gigs. Just give us an email first to make sure I remember to bring some down.

---

The Notebenders were ofeatured on the "John Hellings' Big Bands" show on Saturday 13th September. Click on the logo to go to the BBC iPlayer where it's up for a week. The Notebenders section is 1hr 10 minutes into the show

If you go to the Gallery section of our website you'll see I've started a Flickr slideshow as a new photogallery for the website. It's early days and there's only a few photos there (including some of this week's guest, Ralph Allin) but I'm hoping that using Flickr will be an easy way to build a good photogallery for the website, as editing lots of images and building web galleries myself can be too time consuming.
Also, it will be possible to embed slideshows from other photographers who have work up on Flickr, Picasa or suchlike, and upload work by those who don't to our Flickr.
ANDY HAMILTON IN BUFFALO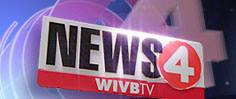 While Andy Hamilton was in New Yorrk recently he flew upstate to Buffalo where he used to play in the 1940s. The cream of Buffalo's Jazz Musicians put on a special show for Andy, and you can find out more about it on the WIBV TV News 4 Website. They had an article and a couple of videos on their site. There's only one video left now, but we've put a link to it below:
HAPPY BIRTHDAY ANDY
27th March is the Gig of the Decade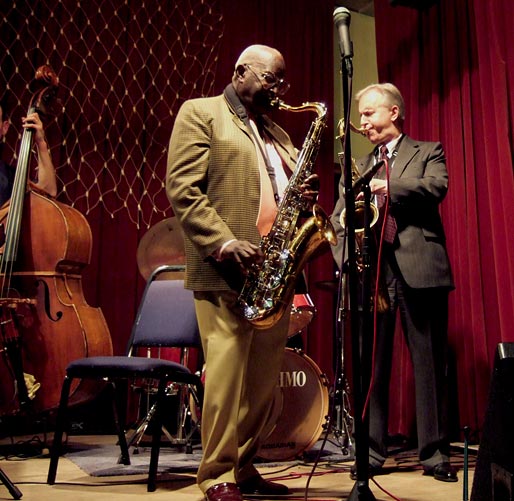 On 27th March Scott Hamilton, seen above with Andy Hamilton will join him once again, this time for Andy's 90th Birthday Party! Also playing at the gig will be the best rhythm section in town, The Tony Richards Trio featuring international pianist John Patrick and the fabulous Tom Hill on Bass; and of course Andy Hamilton and The Blue Notes. Corks is always the place to be to celebrate Andy's Birthday, and we can promise you a night to remember.
Be there early to get a seat.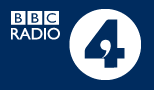 In the run-up to his 90th Birthday Andy Hamilton was interviewed on Radio 4's Front Row and Radio 3's Music Matters.

---
AND 'ES A JOLLY GOOD FELLOW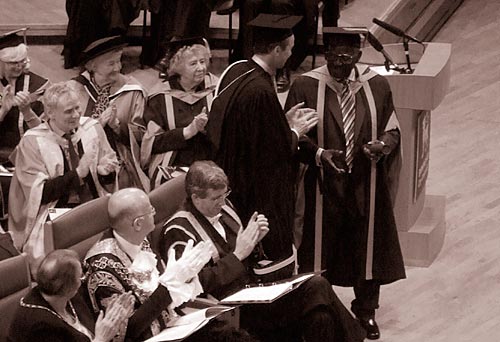 Following swiftly on the back of his MBE, Andy Hamilton has been awarded a "Fellowship of the Birmingham Conservatoire". If Andy continues to reap in awards at this rate he'll soon be running out of space to put them all.
You can find out more on the JazzWestMids website or in my NowPublic section.
ANDY HAMILTON IS 90
Photography Exhibition by Russ Escritt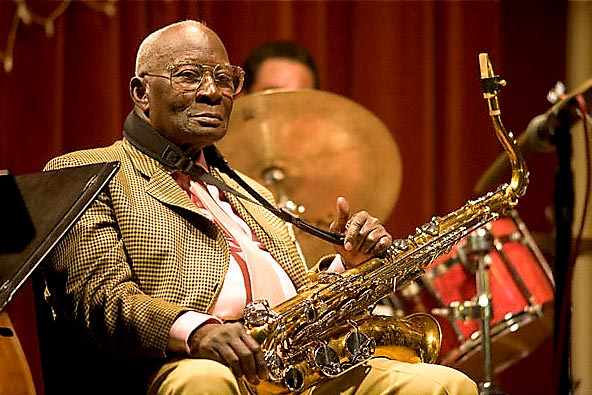 Russ Escritt has an exhibition of his Photography to coincide with Andy Hamilton's 90th Birthday. The exhibition is in the Symphony Hall Level 4 Foyer and runs from 3rd - 31st March 10am-6pm and during enening performances.
The exhib features 20 images of Andy and his guests over the years. There are solo and band shots of Andy going back over 10 years plus images of some of his guests over the years like David Murray, Art Farmer, John Dankworth, Myrna Hague and Sonny Bradshaw etc. It features some colour images; the first time Russ has exhibited colour shots.
And a Garry Corbett Jazz Photography Exhibition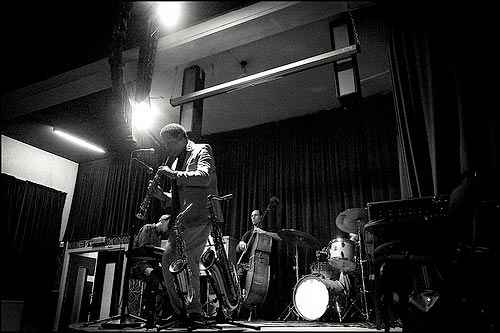 Garry Corbett has a black and white photography exhibition called, Black + White = Blues coming up which will run throughout March at the Gallery on the first floor of Birmingham Central Library. He took the photo above at our recent Steve Alao gig.
With the two exhibitions being on either side of Centennary Square you may wish to take them both in in one go!
---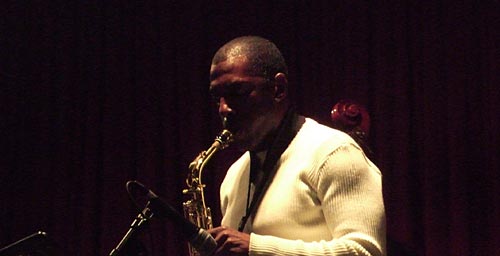 Curtis is the latest in a long line of Sax players to get their chance to perform in public with Andy Hamilton and The Blue Notes at the Corks. We now have video of him and others in our VIDEO GALLERY Many of these musicians learn under Andy Hamilton and/or study at the Ladywood Community School of Music while they often hone in their talents playing with the Notebenders Big Band. You'll find a lot more flicks and snaps of live performance in the EVENTS section of the Ladywood Community School of Music's website - click on JAMMING!
---